'Neighbors 3': Zac Efron Pitches His Idea For A Sequel With Zombies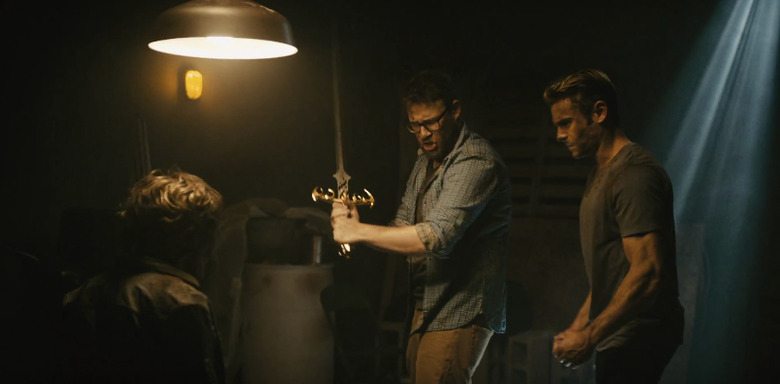 This weekend brought Neighbors 2: Sorority Rising to theaters, the sequel to the hit comedy from 2014. Usually, comedy sequels aren't anything to write home about, but this one has a 61% on Rotten Tomatoes. That's a good score for an R-rated comedy, especially one that's a sequel. While there's no indication that Universal will attempt to capture the comedic magic from Neighbors for a third time, a new video shows that Zac Efron has an idea for Neighbors 3 that involves he and Seth Rogen facing zombies.
Watch the Neighbors 3 video after the jump.
The above video premiered during an episode of Fear the Walking Dead last weekend on AMC, where Seth Rogen's new show Preacher is debuting on the cable network tonight. That's some solid synergy between Universal and AMC.
As outlandish as it would be to have Seth Rogen and Zac Efron's characters encounter zombies in a Neighbors sequel, there's a part of me that wishes those kind of crazy ideas could be turned into movies. Comic books have little one-shot stories that don't impact the larger comic book universe, and I wish there was a way to see that kind of thing happen in movies.
With a crossover between 21 Jump Street and Men in Black on the way, these kind of ideas might not be so crazy. If successful, studios could start blending their franchises as a new gimmick to get audiences interested. But we'll have to wait and see if MIB 23 actually works first.
Now that Mac (Seth Rogen) and Kelly Radner (Rose Byrne) have a second baby on the way, they are ready to make the final move into adulthood: the suburbs. But just as they thought they'd reclaimed the neighborhood and were safe to sell, they learn that the new occupants next door are a sorority even more out of control than Teddy (Zac Efron) and his brothers ever dreamed of being.
Tired of their school's sexist, restrictive system, the unorthodox ladies of Kappa Nu have decided to start a house where they can do whatever the hell they want. When Shelby (Chloe Grace Moretz) and her sisters, Beth (Kiersey Clemons) and Nora (Beanie Feldstein), find the perfect place just off campus, they won't let the fact that it's located on a quiet street stand in their way of parties as epic as the guys throw.
Forced to turn to the one ex-neighbor with the skills to bring down the new Greeks next door, the Radners—alongside best friends Jimmy (Ike Barinholtz) and Paula (Carla Gallo)—bring in charismatic Teddy as their secret weapon. If he can infiltrate the sorority and charm his way through it, the thirtysomethings will shutter the Kappas' home. But if they think that their neighbors are going down without a fight, they have severely underestimated the power of youthful ingenuity and straight-up crazy.
Neighbors 2: Sorority Rising is in theaters now.