LOL: 'SNL' Spoofs 'Dead Poets Society' In One Of The Best Sketches Of The Season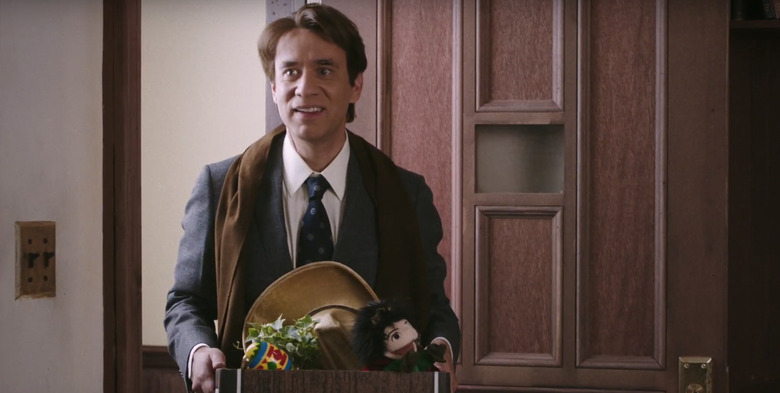 O captain! My captain! Last night Saturday Night Live brought its 41st season to a close with a finale hosted by former cast member Fred Armisen. The episode ended the season on a high note, but we'll get to our full review of that a little later today.
However, we couldn't help but share what was undoubtedly the best sketch of the night. Normally the best sketch of the night doesn't warrant a post by itself, but since this particular sketch is an amazing spoof of an iconic scene from the film Dead Poets Society starring the late Robin Williams, it demands to be highlighted on its own.
Watch the Saturday Night Live Dead Poets Society sketch after the jump.
Here's the sketch entitled "Farewell Mr. Bunting" from the SNL YouTube channel:
What makes this sketch so brilliant is how straight everything is played right up until the big joke hits. Even the reading about the awfulness of poetry is delivered with some serious conviction that it fits right in with the style of the scene being parodied. Before the end gag, the only remnant of pure silliness is Jay Pharoah putting on the book pages as a hat. But that little gag in itself is also very funny because it makes me wonder just what kind of teacher Mr. Bunting really was, especially since he has that little stuffed doll and a colorful maraca in his box of personal items.
This is undoubtedly one of the best sketches of the season, and it's a testament to just how brilliant Saturday Night Live can be. More often than not I think the recorded sketches outshine the live sketches, which is a bit disappointing for a show that's famous for being put together in a week and done live on the air. That makes some people question why the show even has a live component at anymore. But there are still great sketches that thrive on being done live, whether it's because of the energy of the audience or a cast member breaking character, and that's why the show stays a live program. Plus, there were always recorded sketches part of the show since its inception, so it's fair game.
Saturday Night Live is all done for this season, but we'll be back in the fall when the 42nd season debuts on NBC