'Teenage Mutant Ninja Turtles 2' Clips: Meet Casey Jones, Watch Bebop & Rocksteady Mutate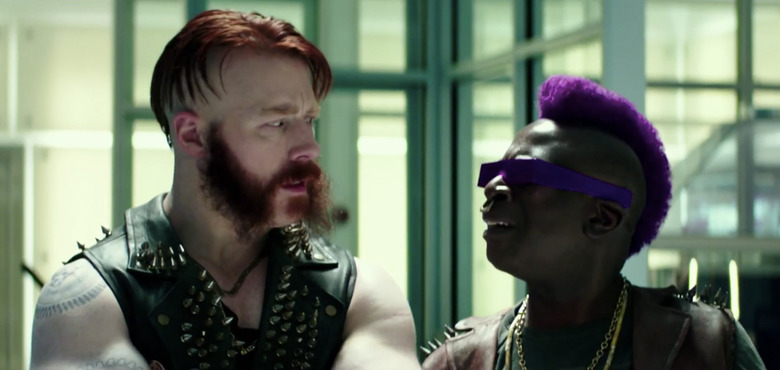 The most recent trailer for Teenage Mutant Ninja Turtles: Out of the Shadows just debuted before the weekend began, and it finally showed more of the Dimension X villain Krang really sticking it to the heroes in a half-shell. Now some new clips from the sequel have arrived online, showing us even more of the new supporting heroes and villains.
The new Teenage Mutant Ninja Turtles 2 clips give us the introduction of Arrow star Stephen Amell as the new Casey Jones as well as the mutation of Gary Anthony Williams and Stephen "Sheamus" Farrelly as Bebop and Rocksteady. And if you're in the mood for seeing more of the turtles in action, we get to see some more of the airplane jump sequence. Watch below.
Here's the new Teenage Mutant Ninja Turtles 2 clips from the official YouTube channel:
For anyone who has been hoping to see more of Tyler Perry as Baxter Stockman, that clip should hold you over until the movie arrives early next month (plus we see Brian Tee as Shredder without his mask). Perry is definitely playing up the goofy factor of this scientist character, almost like an Edward Nygma from Batman Forever. So here's hoping he gets a chance to turn into a fly in a future sequel. Maybe that will even be hinted at in Out of the Shadows.
As for Casey Jones, I'm not sure that I like handsome Stephen Amell taking over the role after Elias Koteas played the character so well in the original Teenage Mutant Ninja Turtles. But then again, with Megan Fox cast as April O'Neil, having an actor like Amell cast opposite the actress just makes sense.
For more from Teenage Mutant Ninja Turtles: Out of Shadows, watch the recent trailer right here.
Michelangelo, Donatello, Leonardo, and Raphael return to theaters this summer to battle bigger, badder villains, alongside April O'Neil (Megan Fox), Vern Fenwick (Will Arnett), and a newcomer: the hockey-masked vigilante Casey Jones (Stephen Amell). After supervillain Shredder escapes custody, he joins forces with mad scientist Baxter Stockman (Tyler Perry) and two dimwitted henchmen, Bebop (Gary Anthony Williams) and Rocksteady (WWE Superstar Stephen "Sheamus" Farrelly), to unleash a diabolical plan to take over the world. As the Turtles prepare to take on Shredder and his new crew, they find themselves facing an even greater evil with similar intentions: the notorious Krang.
Teenage Mutant Ninja Turtles: Out of the Shadows arrives in theaters June 3.