'Riverdale' First Look: The CW's Subversive Take On Archie And The Gang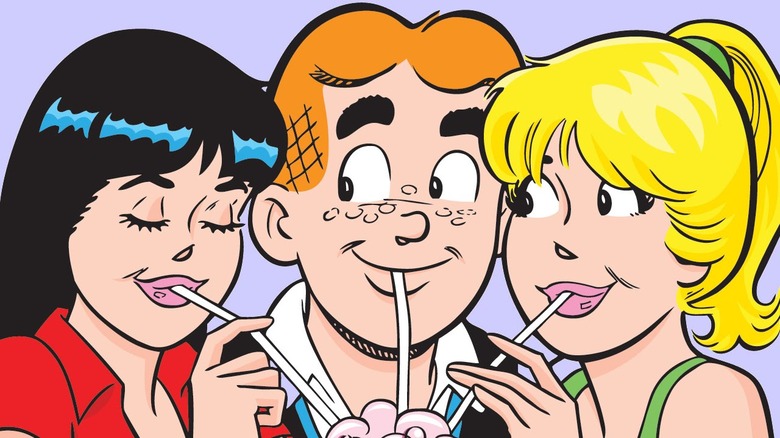 Back in 2014, Fox began developing a show based on the long-running comic book series "Archie." Greg Berlanti–who's no stranger to comic book adaptations, having worked on The Flash and Arrow–is producing Riverdale, and chief creative officer of Archie Comics, Roberto Aguirre-Sacasa (Supergirl), wrote the pilot. The one-hour drama is no longer set up at Fox, though. The CW is the new home to the series, which stars KJ Apa (Archie Andrews), Camilla Mendes (Veronica Lodge), Lili Reinhart (Betty Cooper), and Cole Sprouse (Jughead Jones).
The first promo image–a shot of the main cast–was recently released. Below, check out the Riverdale first look.
Here's the Riverdale first look from the Archie Comics Twitter Feed:
Coming Soon! #Riverdale pic.twitter.com/UlltJ8KwRr

— Archie Comics (@ArchieComics) May 12, 2016
Set in present-day Riverdale, the show has been described as a subversive take on the comic book series. The CW has released a lengthy plot synopsis for the series that should give Archie fans a clearer indication of what to expect from the Twin Peaks-inspired show. For starters, young Archie is involved in a "forbidden relationship with Riverdale's young music teacher, Ms. Grundy (Sarah Habel)," who, in the comics, was much older than her students and once married to Mr. Weatherbee, the principal of Riverdale High School. Based on the extended plot synopsis, that's not the only notable deviation that's been made with this modernization.
Most of the young cast members are in the same age range as their characters, although there are a few exceptions, which is generally the case with shows or movies set in High School. KJ Apa, Camilla Mendes, Lili Reinhart, and, even though he's 24 years old, Cole Sprouse come across as High School students in the above picture. They all look charming together, like a group of actual friends.
Here's the official synopsis for Riverdale, which teases the "dangers" that lurk "in the shadows":
As a new school year begins, the town of Riverdale is reeling from the recent, tragic death of high school golden boy Jason Blossom — and nothing feels the same... Archie Andrews (KJ Apa) is still the all-American teen, but the summer's events made him realize that he wants to pursue a career in music — not follow in his dad's footsteps—despite the sudden end of his forbidden relationship with Riverdale's young music teacher, Ms. Grundy (Sarah Habel). Which means Archie doesn't have anyone who will mentor him — certainly not singer Josie McCoy (Ashleigh Murray), who is only focused on her band, the soon-to-be-world-famous Pussycats. It's all weighing heavily on Archie's mind — as is his fractured friendship with budding writer and fellow classmate Jughead Jones (Cole Sprouse). Meanwhile, girl-next-door Betty Cooper (Lili Reinhart) is anxious to see her crush Archie after being away all summer, but she's not quite ready to reveal her true feelings to him. And Betty's nerves – which are hardly soothed by her overbearing mother Alice (Mädchen Amick) aren't the only thing holding her back.
When a new student, Veronica Lodge (Camila Mendes), arrives in town from New York with her mother Hermione (Marisol Nichols), there's an undeniable spark between her and Archie, even though Veronica doesn't want to risk her new friendship with Betty by making a play for Archie. And then there's Cheryl Blossom (Madelaine Petsch)... Riverdale's Queen Bee is happy to stir up trouble amongst Archie, Betty, and Veronica, but Cheryl is keeping secrets of her own. What, exactly, is she hiding about the mysterious death of her twin brother, Jason? Riverdale may look like a quiet, sleepy town, but there are dangers in the shadows...
Riverdale's premiere date is currently TBA.