'No Tomorrow' Trailer: The CW Gets Pre-Apocalyptic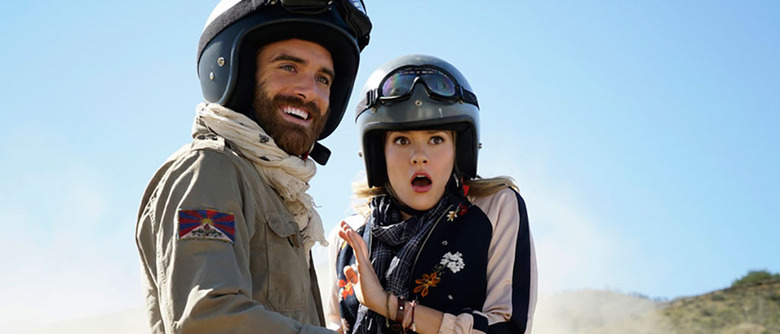 Apocalypses and dystopias are all over TV right now. Divergent and The Maze Runner are carrying on The Hunger Games' dystopian YA torch on the big screen, while superhero movies promise destruction and doom on a regular basis. The Walking Dead and Fear the Walking Dead are sending zombies shuffling through the AMC lineup, The Last Man on Earth is laughing through the end times over at Fox, and The 100 delivers post-apocalyptic teen drama from week to week on The CW.
But The CW's next apocalyptic series comes with a bit of a twist. No Tomorrow is not a post-apocalyptic story, but a pre-apocalyptic one. Tori Anderson plays a risk-averse quality-control assessor who falls head over heels for a handsome neighbor (Joshua Sasse, late of Galavant). He takes a real "live like there's no tomorrow" approach to life because, as it turns out, he actually thinks there's no tomorrow — he's fairly certain the world is going to end in a few months. Sarayu Blue, Amy Pietz, Jesse Rath and Jonathan Langdon also star. 
The series centers on a risk-averse quality-control assessor (Tori Anderson), who falls in love with a freewheeling man (Joshua Sasse) who lives life to the fullest because he believes the apocalypse is imminent. They embark on a quest together to fulfill their individual bucket lists, with comedic and poignant results.
No Tomorrow looks like the just the kind of weird, high-concept show that The CW does really well. The trailer leaves something to be desired, as it makes the characters' relationship seem more creepy than cute — like when the man sneaks into this woman's email to quit her job for her. But then again, Crazy Ex-Girlfriend sounded kind of terrible on paper too, and that emerged as one of last fall's best new series, a hilarious and heartbreaking examination of mental illness and romantic myths. Maybe No Tomorrow's got a similar trick up its sleeve.
If nothing else, the No Tomorrow trailer feels like a breath of fresh air after all the bland formulas and tired reboots being served up by the other networks this fall. If No Tomorrow looks like your cup of tea, it'll be airing Tuesdays at 9 PM, right after The Flash, starting this fall on The CW.