First Look: Charlize Theron Is Ready For Action In 'Fast 8'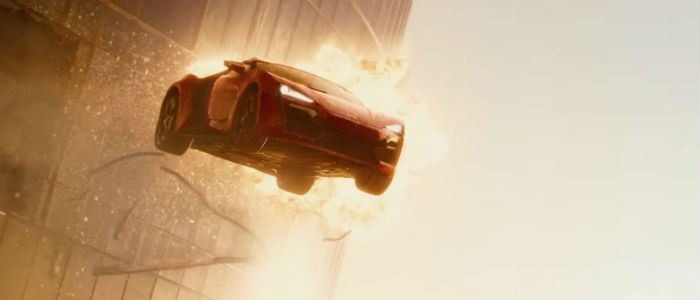 Fast 8 pulled off a pretty great casting coup when it convinced Charlize Theron to come aboard as the villain, and today we have our first look at exactly what Dom Toretto and his family will be going up against in their next adventure. The film has unveiled the first official still of the Charlize Theron Fast 8 character, and you can see it after the jump. 
Our crew has faced former military, mercenaries & more. Now they meet Cipher (@CharlizeAfrica). #F8 #FastFridays pic.twitter.com/3zEK35gPZD

— The Fast Saga (@TheFastSaga) May 20, 2016
It's not the best photo of Theron — she looks airbrushed into oblivion — but it's a very exciting reminder that, yes, the Fast and Furious franchise has pulled over to pick up Charlize Freakin' Theron, the new queen of the Mad Max movies, for its next ride. What a time to be alive. Beyond that, the photo doesn't reveal a whole lot about her character, Cipher. Apparently she has an affinity for heavy metal, both in the "classic rock" sense and the "giant freaking guns" sense. She looks like she could fit in with Dom Toretto's family, if only she weren't so hell-bent on destroying them.
As the Fast and Furious brand has evolved into a billion-dollar juggernaut, the films have attracted all sorts of high-caliber talent. Dwayne Johnson's been a key member of the team since Fast Five, Jason Statham dropped by Furious 7 to strike some fear into our heroes' hearts, Kurt Russell stopped in during that same film to offer his assistance. Theron is a great addition to that lineup. Now all these films need is to make Helen Mirren's wildest dreams come true and get her on board for some high-speed action.
Fast 8 brings back Vin Diesel, Dwayne Johnson, Michelle Rodriguez, Tyrese Gibson, Ludacris, and Nathalie Emmanuel. New faces this time include Scott Eastwood and Kristofer Hivju in addition to Theron. F. Gary Gray is directing, and the whole thing is scheduled to speed into theaters on April 14, 2017.