Jennifer Lawrence Might Do More 'X-Men', But There's A Catch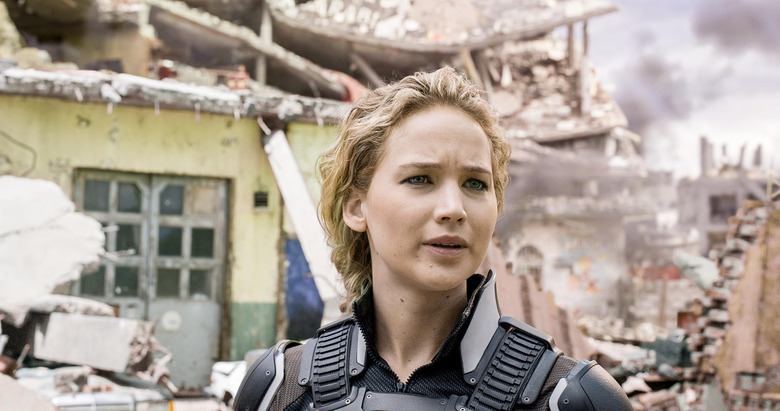 Next week's X-Men: Apocalypse marks Jennifer Lawrence's third time playing the mutant Mystique, but whether it's her last remains to be seen. After telling press last year that Apocalypse would be her last X-Men film, Lawrence walked back those comments, declaring that she was "dying to come back." And now she's leaving open the possibility of a return, albeit with one huge caveat. 
Lawrence told Entertainment Weekly that yes, of course she wants to do more X-Men.
I would love to come back. I love the fans and I love the character. But then you realize how important your year is, like how important three months out of your year is. I don't know. I shouldn't be that honest.
But there's a catch:
[Michael] Fassbender and [James] McAvoy and I were all talking. Like, 'Will you come back?' 'I dunno.' 'I'll come back, if you come back.' Fox should be terrified because the deal we made was like if one of us doesn't come back, none of us are.
At this point in the X-Men: Apocalypse promotional tour, it's just good PR for Lawrence to keep teasing her potential return, regardless of whether or not she actually wants to come back. (Even Daniel Craig softened his "I'd rather slash my wrists" stance on James Bond eventually.) And maybe she really would reprise her role under the right circumstances. But with her three-picture contract up after Apocalypse, 20th Century Fox is probably going to have to work a little harder to keep her around.
When Lawrence first signed on for the X-Men franchise around 2010, she was an out-of-nowhere up-and-comer fresh off of a breakthrough turn in Winter's Bone. Six years later, she's one of the biggest stars of her generation, with an Oscar and a multibillion-dollar action franchise (The Hunger Games) under her belt. She doesn't really need to play the third lead in an X-Men movie anymore.
In turn, it's unclear whether the X-Men movies really need her. Lawrence may be the biggest name in the cast, but the franchise is so ensemble-based that it shouldn't be too difficult to shift focus away from her. Even now, it's hard to imagine audiences are watching these films specifically for Lawrence. Then there's also the fact that Mystique is a literal shapeshifter — if ever a character came with a built-in explanation for recasting, it's this one.
Anyway, X-Men: Apocalypse, which may or may not feature Lawrence's last-ever performance as Mystique, drops into theaters May 27.