'The Nice Guys' Animated Short: "Blood As Boozy As Railroad Hobo"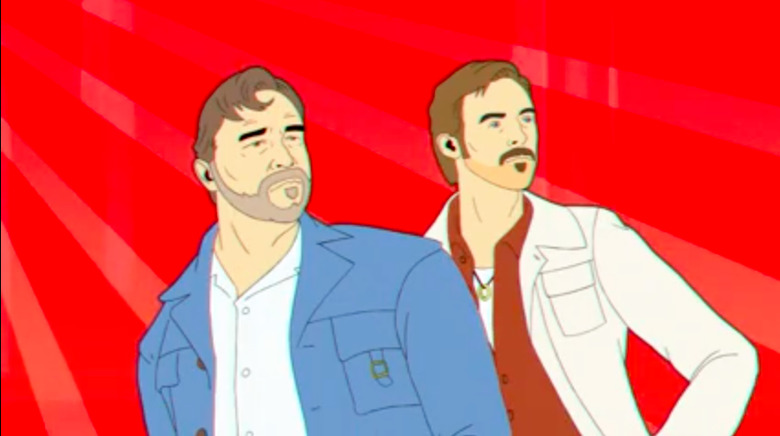 If there's one movie I hope is a hit this summer, it's Shane Black's The Nice Guys. While the original buddy detective movie was pegged as a slight underdog going into the summer movie season, it has a lot going for it. Besides starring Russell Crowe and Ryan Gosling, there isn't another movie like The Nice Guys coming out anytime soon. The film, which is currently hovering above a 90% on Rotten Tomatoes, is a breath of fresh air from what we typically see this time of year. It's not driven by set pieces, toy sales, or an attempt to appeal to China. The Nice Guys is a bit anomaly in this day and age, so when you see a film like this come along, you can't help but to root for it.
Warner Bros. has been getting crafty with the marketing for The Nice Guys. The studio has released videos of Crowe and Gosling in therapy sessions together, but the latest piece of marketing turns the two actors into '70s Hanna-Barbera style cartoon characters.
Check out The Nice Guys animated below.
A recent promotional video for The Nice Guys – which featured producer Joel Silver urging Crowe and Gosling to tweet more about the film — only began to tease the two actors' fantastic chemistry. Crowe and Gosling play equally charismatic, hilarious, and, in their own particular ways, damaged characters. Jackson Healy (Crowe) and Holland March (Gosling) are a case of opposites perfectly attracting. They're two characters you want to see more of, whether on the big screen or, in this case, animated.
Here is The Nice Guys animated short:
It's nice to see whoever made this short didn't forget to include Holly March (Angourie Rice) so prominently. While Black is known for making more male-centric movies, Holly March is a major a part of the Healy and March's team, and she often pushes the narrative forward more than those two men do. It's a great character and performance — both humorous and heartfelt.
As bloody and as strange as The Nice Guys can get, it also has a lot of heart. That's not a surprise from Black, whose directorial debut, Kiss Kiss Bang Bang, features instances of real drama and emotion, like when Harry (Robert Downey Jr.) witnesses a murder. There's a real emotional arc to The Nice Guys, which makes Healy and March more believable, funnier, and, as flawed as they are, all the more lovable.
Here's the official synopsis:
"The Nice Guys" takes place in 1970s Los Angeles, when down-on-his-luck private eye Holland March (Gosling) and hired enforcer Jackson Healy (Crowe) must work together to solve the case of a missing girl and the seemingly unrelated death of a porn star. During their investigation, they uncover a shocking conspiracy that reaches up to the highest circles of power.
The Nice Guys opens in theaters May 20th.