'The Neon Demon' Early Buzz: Nicholas Winding Refn Polarizes Cannes, As Expected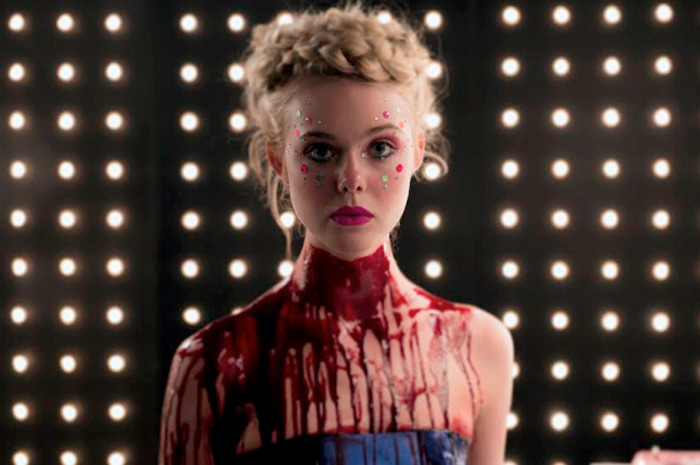 I don't think anyone was expecting a unanimous reaction to Nicolas Winding Refn's The Neon Demon. Refn's horror film just screened at the Cannes Film Festival, and the critical response was mixed, to say the least. Some have claimed the reaction was even more divisive than when Only God Forgives debuted at the festival — which likely pleases Refn, who never attempts to satisfy all audiences. "I can only say if you've polarized, you've done something right," he once said. "If everyone likes it, you've done something wrong."
Check out The Neon Demon early buzz below.
After the press screening for The Neon Demon, there were some boos and a few "critics" went as far as to yell obscenities at the screen, but that's par for the course with Cannes. Even Taxi Driver and David Cronenberg's Crash were both booed at the festival. It's not worth taking seriously, and plenty in attendance for The Neon Demon praised Refn for his dreamlike horror movie.
Here are a few excerpts from the first reviews of The Neon Demon:
Sour milk and fresh meat is more or less what Refn has been serving cinema-goers for years. That his most celebrated film, 2011's Drive, went on to become a serious commercial hit now seems like some kind of bizarre accident. His latest is another work of zero artistic compromise – a glittering, etherised nightmare, drenched in cold sweat, with a dark, coiled-panther energy that springs at you in fitful, snarling bursts.
It's by far the most divisive film to have screened in competition at Cannes this year: before the end credits had even begun to roll, some audience members were already on their feet, yelling abuse at the screen. (It's only fair to report there was also a phalanx of applauders, of which I was one.)
But who goes to a Refn movie for good taste? (Although his last film, "Only God Forgives," went so far overboard as to be almost repellent.) You could say that the director never knows when to stop — but it's probably more accurate to say that he knows exactly when to stop, but doesn't give a damn.
The Neon Demon" is worthy of those boos and that abuse, and you can't take it seriously for a second. But it's also ridiculously, gloriously, stupidly entertaining, if you're in the right mood.
A horror film is what "The Neon Demon" is (sort of). It's set in the Los Angeles fashion world, and it's the kind of movie in which models look like mannequins that look like slasher-film corpses, and corpses look like love objects, and love objects look like something you stare at in the mirror. Beauty mingles with mangled flesh, and each fastidiously slick image seems to have come out of "Twin Peaks: Fire Walk with Me" or "The Shining" or a very sick version of a Calvin Klein commercial. Every scene, every shot, every line of dialogue, every pause is so hypnotically composed, so knowingly overdeliberate, that the audience can't help but assume that Refn knows just what he's doing — that he's setting us up for the kill.
If Fanning is the film's lifeblood, then it's Refn himself who provides its unerring emotional centre. Another available reading is that this is Refn's poison valentine to Los Angeles: the place that once lured him with its bright artificial lights and perpetual sun, only to chew him up and spit him out following the commercial failure of his 2003 film Fear X; and, latterly, where he splits his time between his native Copenhagen. Los Angeles – and in Refn's case Hollywood – subsists on its own mythology, and Refn exposes this by chipping away at the concealer-smothered cracks at the city's glossy surface. Russ Meyer's Beyond the Valley of the Dolls and Dario Argento's Suspiria are obvious touchstones. There are hat-tips to far stranger, more obscure exploitation fare, too. But The Neon Demon is always, unequivocally a Nicolas Winding Refn film. We wouldn't have it any other way.
Nicolas Winding Refn's "The Neon Demon" begins with the initials "NWR" hovering onscreen alongside the opening credits, indicating that the filmmaker has — like Lars Von Trier before him — has become a self-anointed brand. However, "The Neon Demon" represents only a modest attempt to get his snazzy groove back after the drab art-film posturing of "Only God Forgives." This grotesque, hyperstylized treatise on the fashion industry recaptures some of the zany images and B-movie abstractions of Refn's crossover effort, "Drive," though it never quite gels on the same level of inspiration. But, sure, the brand is warranted — elegant, sensual, and blood drenched, this is a genuine NWR film on every level.
Here are a few tweeted reactions as well:
NEON DEMON (B/B+) The fashion industry is easy to satirise. To reflect it back at itself, with equivalent beauty and perversity, is harder.

— Guy Lodge (@GuyLodge) May 19, 2016
The Neon Demon is totally off the boil. Wacky. Insane. Completely cuckoo. And I'm in love with it.

— Joe Utichi (@joeutichi) May 19, 2016
THE NEON DEMON: Horror-satire about beauty as power source, precious gem, root of all evil. Best not to take too seriously. #Cannes

— Tim Grierson (@TimGrierson) May 19, 2016
THE NEON DEMON: slick with blood and glitter paint, Refn denounces superficiality with superficiality. A gorgeous hypocrisy I'm unopposed to

— Charles Bramesco (@intothecrevasse) May 19, 2016
Imagine a movie called NEON DEMON, about models, directed by Nicolas Winding Refn. NEON DEMON is that movie.

— Bilge Ebiri (@BilgeEbiri) May 19, 2016
Holy cow, Black Swan, Mulholland Drive, Heathers, Blow-Up & Only God Forgives have mated. #neondemon #refn

— Steven Zeitchik (@zeitchikWaPo) May 19, 2016
If you want to avoid spoilers, such as myself, I don't recommend reading some of the full reviews, which go into far greater detail about the plot (which some critics say there's little of) than the mysterious trailers have. If anything, these early reactions and reviews raise my expectations for The Neon Demon. It sounds like Refn has made another love-it-or-hate-it kind of film. Whether the movie is enjoyable or not, it's always commendable to see a filmmaker march to the beat of their own drum, no matter how many viewers they'll distance in the process.
The Neon Demon opens in limited release on June 24th.