'Don't Think Twice' Trailer: Mike Birbiglia Goes Deep Into The World Of Improv Comedy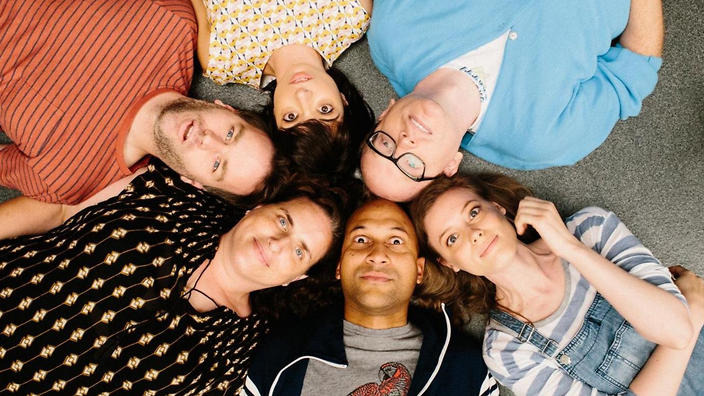 Mike Birbiglia started out as a stand-up comedian before transitioning into filmmaking with 2011's loosely autobiographical Sleepwalk With Me, based on one of his stand-up acts. It was solid and sweet and lots of fun, but it's his second film, Don't Think Twice, that should really mark him as an indie director to watch.
The dramedy, which premiered at SXSW this spring and is now headed for a summer release, follows the members of a scrappy New York improv troupe played by Birbiglia, Gillian Jacobs, Keegan-Michael Key, Chris Gethard, Kate Micucci, and Tami Sagher. The close-knit circle finds itself in disarray when one of their number gets catches a huge break. It's laugh-out-loud hilarious and painfully honest and above all, deeply empathetic, and it'll ring all too true to anyone who's ever found themselves feeling stuck in life. Watch the Don't Think Twice trailer after the jump.
Huffington Post debuted the first Don't Think Twice trailer.
I saw the film at Tribeca this spring, and came away loving it. Don't Think Twice is very, very funny, because the people in it are very, very funny and because the improv setting offers plenty of room for their humor to shine. But it's also heartbreaking, in its own tender, slow-burn way. I laughed my way through much of it, and yet I found myself crying by the end. Every member of the ensemble is used well, but Jacobs is arguably the true highlight — if ever there were an argument for turning her into a full-fledged movie star, this is it.
Jacob Hall, who caught the film at SXSW, was also very taken with the film:
Don't Think Twice is Birbiglia's follow-up to 2012's Sleepwalk With Me, a scrappy, charming and brutally autobiographical look at his struggle to become a stand-up comedian. Birbiglia's honesty about himself and his obsessions made his debut a winning film, but he's grown by leaps and bounds as a storyteller. Don't Think Twice is a better film in every way: more confidently directed, more agonizing in its drama, and much, much funnier. You don't have to enjoy improv comedy to dig the work the performers pull off here. In fact, the contrast between their on-stage work and their after-hours goofing off in apartments and bars is a key part of the film. When does a comedian turn off and how much of their humor is a defense mechanism?
Don't Think Twice rolls into theaters starting July 22.