'Baywatch' Photos Show The Whole Cast On The Beach As Production Wraps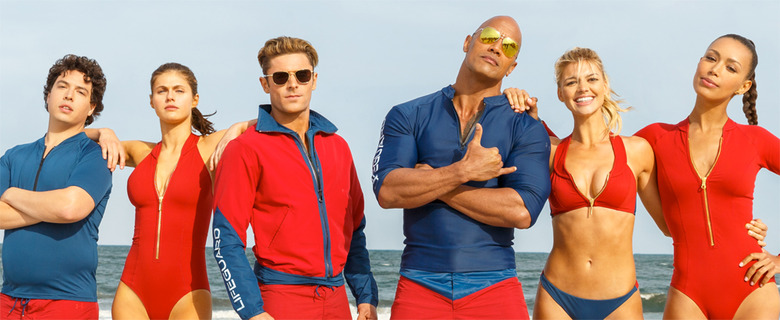 Principal photography on Baywatch has completed, and with the movie exactly one year away today, Dwayne Johnson shared a postcard featuring the primary cast members hitting the beach. In addition, Paramount Pictures also released what is the first official photo from the movie. Even though we've seen a bunch of pictures from the set, thanks to The Rock and Zac Efron's Instagram posts, this is the first one released by the studio.
Check out the new Baywatch photos after the jump.
Here's the postcard straight from Dwayne Johnson's Instagram: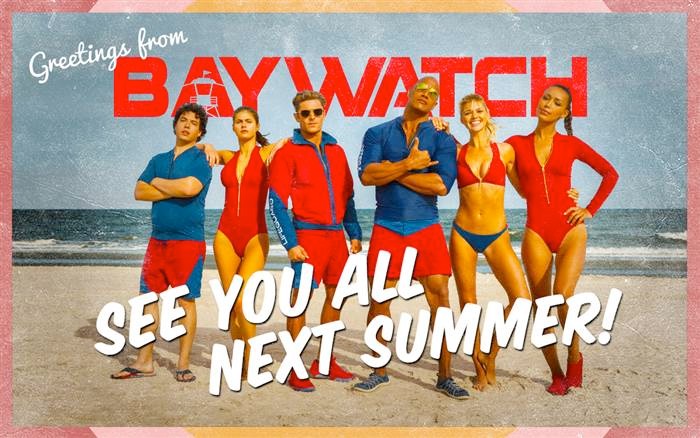 Or if you prefer, here's a much higher resolution version of the same photo with the graphics: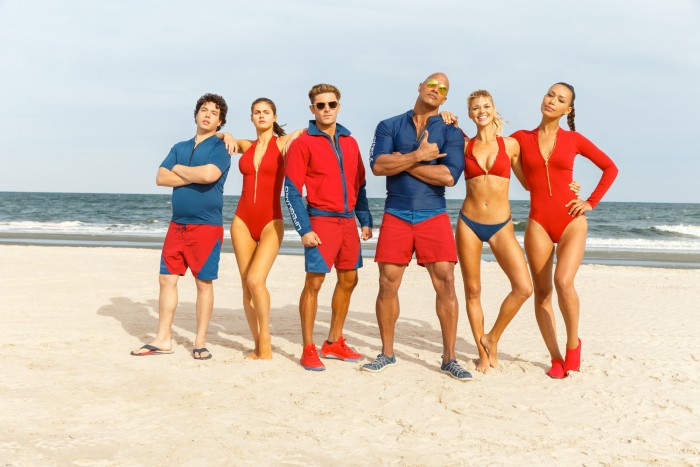 From the left, you can see cast members Jon Bass, Alexandra Daddario, Zac Efron, Dwayne Johnson, Kelly Rohrbach and Ilfenesh Hadera. Even Bass, who is likely meant to be the black sheep of the Baywatch crew since he's not quite as ripped as Johnson and Efron, looks majestic. But that might be just because he's standing next to the stunning Alexandra Daddario.
David Hasselhoff and Pamela Anderson aren't part of this photo, but we've already seen photos of both of the Baywatch alums on the set before now. Plus, Priyanka Chopra, Hannibal Buress, Rob Huebel, Belinda, Jack Kesy, Amin Joseph and Yahya Abdul-Mateen II are also part of the cast as well. Surely there will be some other familiar faces popping up, too.
If you haven't been paying attention to the photos posted to Instagram over the past couple months, here's some that we haven't posted before, featuring the lifeguard team in action:
With Horrible Bosses director Seth Gordon behind this feature comedy adaptation of the popular TV show form the 1990s, I'm hoping this is going to be something hilarious. They're going for an R-rated comedy with this one, so hopefully we'll get something akin to 21 Jump Street. The script comes from Friday the 13th pair of Damian Shannon and Mark Swift, who haven't tackled big screen comedy before, so it's hard to tell what to expect.
At the very least, Zac Efron has proven himself to be funny in movies such as Neighbors and 17 Again. Meanhile Johnson really bared his comedy chops in The Other Guys and Pain & Gain, plus he'll hold his own against Kevin Hart in Central Intelligence later this summer. The question is whether they can actually bring the laughs when they join forces. We'll find out when Baywatch arrives on May 19, 2017.