Frequency TV Series Trailer: The 2000 Time Travel Thriller Comes To The CW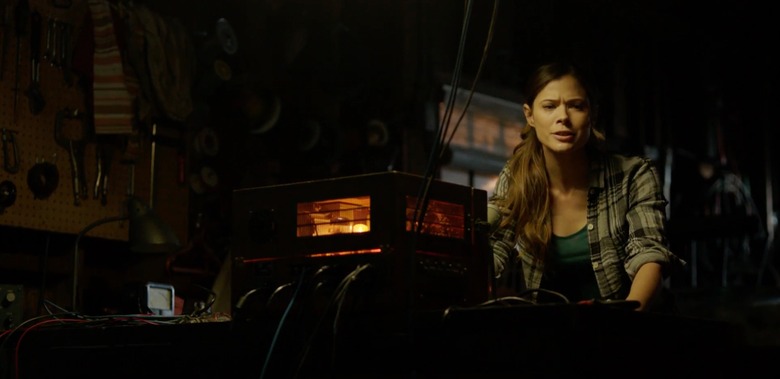 You should know by now that  I love time-travel stories, so it should come as no surprise that I like the 2000 film Frequency which starred Jim Caviezel as a guy whose radio allowed him to speak with his dead father (played by Dennis Quaid), "with their communication being the portal into a thriller plot involving a serial killer." Warner Bros Television has produced a new series based on this premise with Supernatural showrunner Jeremy Carver.
While the show won't premiere on The CW until this fall, the network has released a first look trailer. Hit the jump and watch it now.
Frequency TV Series Trailer
The television adaptation of Frequency follows a police detective in 2016 who discovers she is able to speak with her detective father who died twenty years ago. They of course form a new relationship while working together on an unresolved murder case, but with the same unintended consequences of the "butterfly effect" wreaking havoc in the present day just as it did in the original movie.John Rickard, Dan Lin, and Jennifer Gwartz. Riley Smith, Mekhi Phifer, Peyton List, Lenny Jacobson, Anthony Ruivivar, Devin Kelley, and Daniel Bonjour star.
The television show version of the premise seems a lot less cinematic and too network-tv for my tastes. There doesn't seem to be anything subtle with the interactions and twists shown in this first trailer, and I'm somehow doubting that the character drama will be any different. That said, I will still have to give this show a chance as I love that original premise. For comparison sake, here is the original trailer for the 2000 film of the same title:
It seems like these days almost any movie from the last 30 years is being adapted into a television series. And I'm not complaining as film to tv adaptations have produced some fantastic results thus far: I love Fargo and while I don't watch any of these shows, I've heard Hannibal, Bates Motel, Ash vs. Evil Dead and Wet Hot American Summer: First Day of Camp are all solid. Sure, there have been a bunch of bad eggs recently, including Limitless, Minority Report, Rush Hour and I can't imagine ABC's upcoming Uncle Buck show being any good. And its just begun, we're about to see an onslaught of a ton of movie to tv show adaptations and they all can't be good.
Frequency will air on Wednesdays at 9 p.m. ET beginning fall 2016.