'Sherlock Holmes 3' May Shoot This Fall, Probably Won't Be The Last Sequel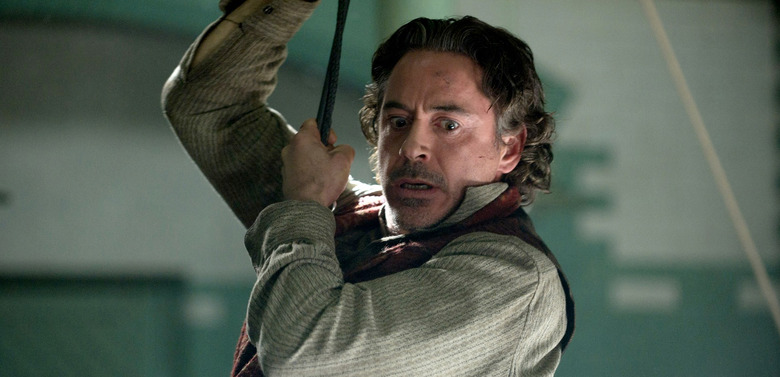 While making the publicity rounds for Captain America: Civil War, some surprising news came from Robert Downey Jr. that Sherlock Holmes 3 was still in the works. In fact, there was even a chance that the film could shoot later this year. Shortly thereafter, the sequel landed a writer with James Coyne hired for the gig. Now producer Joel Silver adds more hope that the sequel will happen, and he indicates that this probably won't be the last one.
Find out more about Sherlock Holmes 3 and future sequels after the jump.
Collider caught up with franchise producer Joel Silver while promoting his latest effort, Shane Black's The Nice Guys. Silver echoed Downey's hope that Sherlock Holmes 3 will be shooting before the end of the year:
It looks like it could happen this fall. Downey said he wants to do it. He's gotta launch into another Avengers movie, right after the New Year, so we're trying to get it done. We have a script that we like. Jude [Law] is available and Downey is available, and we're hoping we can get it done. If it works, great. If not, we'll do it another time. But, it looks like it could happen now.
Scheduling has been the big issue keeping everyone from getting Sherlock Holmes 3 off the ground. Downey has been busy in the Marvel cinematic universe, director Guy Ritchie has been working on Knights of the Roundtable: King Arthur, the first installment of what is meant to be a bigger franchise, and Jude Law has a role in that movie, in addition to the series The Young Pope. But now it appears they may all have time to bring Holmes and Watson back.
It's been five years since Sherlock Holmes: A Game of Shadows hit theaters, so we're certainly overdue for a sequel. But are fans really demanding another installment? As much as I enjoy Downey and Law as Holmes and Watson, I found the second installment of the franchise to be underwhelming, and that's despite bringing Moriarty into the mix. But Silver is under the assumption that people still want more, because Sherlock Holmes 3 likely won't be the last sequel:
I hope [it's not the last one]. I don't think so. How many Bond films have they made? As long as there's a character, we can work with it. It's not an end story. We can keep going, as long as people want to do it. It's [the actor's] call. They have to say, 'Okay, I'm ready to go.' I read about them making another Bad Boys. If they want to do it, then you try to get it done.
However, there's plenty of intense action in this iteration of Sherlock Holmes, and Robert Downey Jr. will probably be too old at some point to play the role. One would think that would happen sooner than later without a suit of armor to stand in for him in the action sequence. Sure, there are stunt doubles, but at some point, we're just not going to believe that an old Sherlock Holmes is still into underground fighting rings. Anyway, stay tuned to see if Sherlock Holmes 3 actually ends up shooting this fall.