'Bob's Burgers Live!: The Movie' Is Hilarious, But It's Not What You'd Expect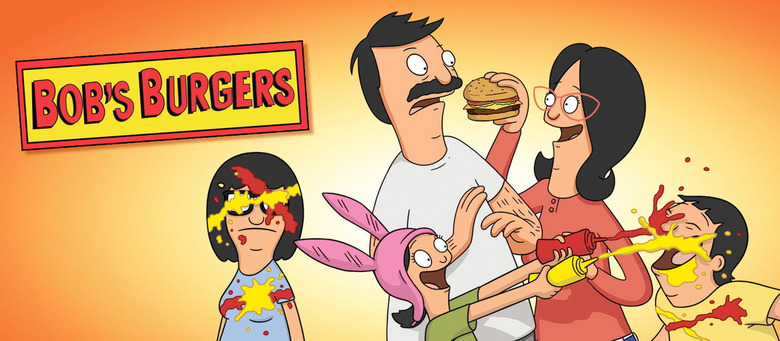 If you're a fan of the FOX animated series Bob's Burgers, then you probably already know that this weekend marks its milestone 100th episode. If you're not a fan of Bob's Burgers, then you should probably watch it on Netflix or Hulu and join in the hilarity.
In case you didn't know, just last month the cast of Bob's Burgers got together for some recent live shows in Los Angeles that featured H. Jon Benjamin (Bob), John Roberts (Linda), Dan Mintz (Tina), Eugene Mirman (Gene), and Kristen Schaal (Louise) all doing stand-up, table reads and more in front of a live audience. Before the show began, a short film called Bob's Burgers Live!: The Movie revealed how the cast was rounded up for the event, and it was a little more complicated and dramatic than you might anticipate.
Watch the Bob's Burgers Live movie after the jump.
Here's the video straight from the official Bob's Burgers YouTube channel:
Surely some of you are disappointed this isn't just a live-action version of Bob's Burgers featuring the cast, but it's still an amusing short. It's also written by Rich Blomquist, John Roberts and Kristen Schaal, the latter of whom also directed the short.
You probably never thought you'd see H. Jon Benjamin as a make-up artist or John Roberts and Kristen Schaal on the set of a remake of Less Than Zero, but there they are. Plus, you can't go wrong when you have guest stars popping up like Kevin Kline (who voices Mr. Fischoeder) and David Herman (the voice of Mr. Frond and plenty other voices).
The short was released online in anticipation of the 100th episode of Bob's Burgers, airing Sunday on Fox at 9:30pm ET/PT. If you haven't watched before, maybe tune in and give the show a shot. There will be butts.