The Jason Statham Shark Movie 'Meg' Will Open In Theaters In 2018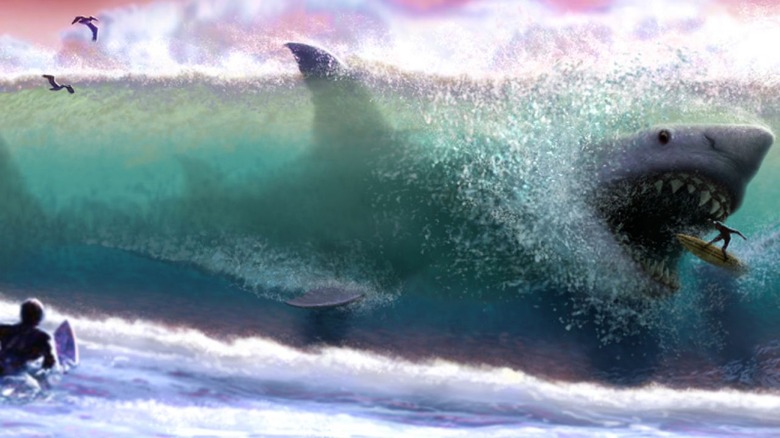 It looks like Meg may have finally crawled its way out of development hell. An adaptation of Steve Alten's Meg: A Novel of Deep Terror has been in the works for a long time now, but the budget, time and time again, has proved to be an issue. In 2007, millions of dollars were spent on Jan de Bont's (Speed) version of the project before New Line pulled the plug. Eli Roth recently ran into similar issues on Meg. After Roth had exited the project, Jon Turteltaub took over the film.
Once The Sorcerer's Apprentice and Cool Runnings director became attached to the adaptation, things began to look up for Meg, which landed the all-powerful Jason Statham and superstar Fan Bingbing (X-Men Days of Future Past) as its two leads.
Learn more about the Jason Statham shark movie below.
Meg will be co-financed by China's Gravity Pictures. Because of Gravity Pictures' involvement, Warner Bros. changed Meg's location from California to China. Fan Bingbing, who's a major film star and pop singer in China, will presumably play one of the lead characters, Dr. Zhang Suyin. Audiences in the states probably best know Fan from her appearance in X-Men: Days of Future Past.The Hollywood Reporter broke the casting news. The outlet also got ahold of the official synopsis for the film, which reads as a notable departure from the source material:
An international underwater observation program, led by Chinese scientists, is under attack by an unknown danger, and its deep-sea submersible lies disabled and trapped at the bottom of the Mariana Trench. With time running out, former Naval Captain and expert deep sea diver Jonas Taylor (Statham) is recruited by Dr. Zhang Suyin, lead oceanographer of the program, for what is likely a suicide mission.
Years before, Taylor had encountered this same terrifying threat, which forced him to abort his mission and abandon half his crew, resulting in disgrace and a dishonorable discharge. Now, Taylor must confront his fears and risk his own life to save everyone trapped below ... bringing him face to face once more with the apex predator of all time.
Jason Statham coming "face to face" with a massive Megalodon is the kind of money shot you can almost guarantee will make its way into the trailer. We'll see have to wait and see how Turteltaub, who typically makes very kid-friendly movies, fares with this sort of material, but Statham's involvement certainly makes this project more appealing. Warner Bros. will release Meg on March 2nd, 2018, which is the same release date as Shane Black's The Predator.