'The Martian' Author Andy Weir Reuniting With Ridley Scott For New Project At Fox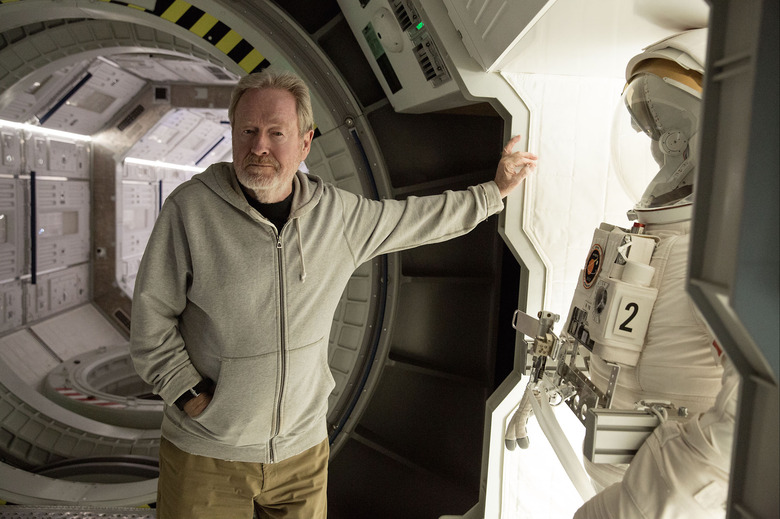 Ridley Scott's adaptation of Andy Weir's The Martian was a smashing success by any measure, and 20th Century Fox is hoping to recreate that magic again. The studio has just picked up an untitled pitch from Weir, which Scott will produce along with The Martian's Simon Kinberg.
It's the second The Martian reunion we've heard about this month. Last week we got word Scott was re-teaming with The Martian screenwriter Drew Goddard (who's not involved in the new Weir movie) for Wraiths of the Broken Land.
Deadline reported on the new Ridley Scott Andy Weir project. Sadly, all details about said project are being kept under wraps. We don't know what the premise is, or even what genre it'll fall into, though Weir is mostly know n for his sci-fi work. Weir will write the screenplay. Kinberg is producing through Genre Films and Scott through Scott Free Productions. Aditya Sood and Michael Schaefer, who produced The Martian, are also on board. Scott is not expected to direct (which is just as well since he seems to have about 80 different projects on his plate at any given moment).
The Martian was a huge hit for Fox last year. It grossed $630 million worldwide and scored a 92 on the Tomatometer, and went on to scoop up seven Oscar nominations including Best Picture. It felt like a return to form for Scott after the messy Exodus: Gods and Kings, the puzzling The Counselor, and the divisive Prometheus, and put a surprisingly funny and uplifting spin on the survival drama genre. If Fox can replicate that success story, it sounds like a win for everyone involved, including us in the audience.
The other The Martian reunion Fox is cooking up is Wraiths of the Broken Land. As we reported last week, that one is also being produced by Scott, Kinberg, Schaefer, and Sood. Scott plans to direct that one from a script by Goddard (who's also producing), based on the novel by S. Craig Zahler (Bone Tomahawk). Weir is not part of that project.
The Martian was Weir's first novel. Originally self-published in 2011, the book became a bestseller on Amazon's Kindle store. Crown Publishing has since picked up the print rights. He's working on a couple of other books at this time including Zhek, which he describes as "a more traditional sci-fi novel" with "aliens, telepathy, faster-than-light travel, etc."; and an as-yet-untitled book that he calls "rigidly sci-fi," following a female lead on a city on the moon.