'Ghostbusters' Trailer: "The Word We're Looking For Is 'Apocalypse'"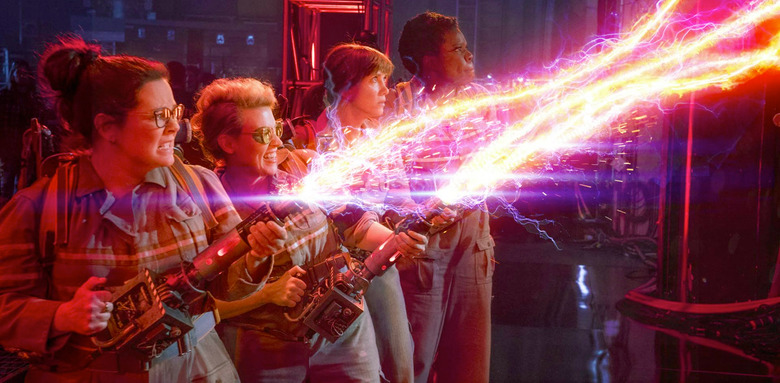 There's been a lot of complaining in some quarters about Paul Feig's Ghostbusters starring four women instead of four men. But like it or not, these are the new 'busters we're getting this summer, so let's just be thankful they seem up to the task of saving Earth from a supernatural apocalypse. They've got one big vote of confidence, at least: "It will haunt you every night. Whatever it is. No one should have to encounter that kind of evil," says a character played by Michael McDonald. "Except you girls, I think you can handle it."
Melissa McCarthy, Kristen Wiig, Kate McKinnon, and Leslie Jones play the new team, while Chris Hemsworth tags along for the ride as their receptionist Kevin. The latest Ghostbusters trailer from Sony features a whole lot of new footage, so check it out below. 
Watch the new #Ghostbusters trailer now, and see it in theaters July 15. https://t.co/Y2HjHrBMET

— Ghostbusters (@Ghostbusters) May 18, 2016
That's one hell of a lineup for a comedy, but McKinnon in particular is killing it in these trailers. She can wring more laughs out of a single raised eyebrow than some actors can out of entire performances. And as much fun as it is to watch Thor play a ditz, it looks like there's more to him than meets the eye. Of course, that's not saying a whole lot considering how very delightfully dim this fellow is. I tell you, that Hemsworth should quit it with the stone-faced dramas and embrace his true destiny as a comedy star.
Ghostbusters arrives July 15.
Ghostbusters makes its long-awaited return, rebooted with a cast of hilarious new characters. Thirty years after the beloved original franchise took the world by storm, director Paul Feig brings his fresh take to the supernatural comedy, joined by some of the funniest actors working today – Melissa McCarthy, Kristen Wiig, Kate McKinnon, Leslie Jones, and Chris Hemsworth. This summer, they're here to save the world! The film is produced by Ivan Reitman and Amy Pascal, and written by Katie Dippold & Paul Feig, based on the 1984 film "Ghostbusters," written by Dan Aykroyd and Harold Ramis and directed by Ivan Reitman. Ghostbusters will be released in theaters nationwide on July 15, 2016.