More 'Batman V Superman' Fallout: Geoff Johns To Co-Lead Newly Created DC Films Division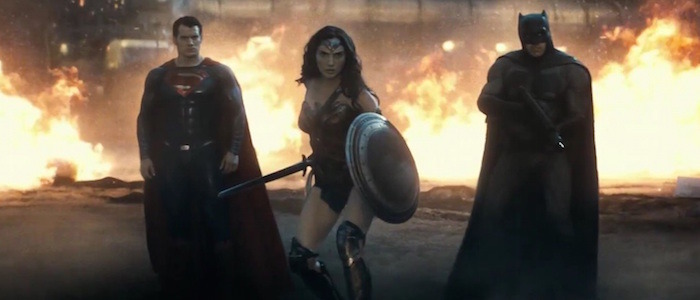 That shiny new logo isn't the only big change coming to DC Entertainment. Following the disappointing reception to Batman v Superman: Dawn of Justice, Warner Bros. is reorganizing its executive team. DC chief content officer Geoff Johns and Warner Bros. executive vice president Jon Berg will now oversee the newly created DC Films division, which will handle the studio's fledgling DC Extended Universe franchise. In other words, DC finally has its own Kevin Feige. Sorta. 
DC Films is Warner Bros.' attempt to course-correct after Batman v Superman: Dawn of Justice. Although the film has raked in nearly $870 million at the box office to date, those totals still fell short of Warner Bros.' hopes. Perhaps even more concerning, fans and critics seemed severely divided on the movie itself. Batman v Superman was supposed to generate enough excitement to help launch the rest of Warner Bros.' DC Extended Universe. Instead, audience members were turned off by its sloppy storytelling and dour tone. Yes, the film has its diehard supporters (I'm a fan myself) but a franchise this expensive needs to have broader support in order to survive.
Since then, Warner Bros. has tweaked its plans for the DC Extended Universe. This summer's Suicide Squad has undergone reshoots (though not, THR's sources insist, to add more jokes). Justice League, which is shooting now under Zack Snyder, added Batman actor and Oscar-winning filmmaker Ben Affleck as an executive producer. And The Flash dropped Seth Grahame-Smith, who would have been making his feature directing debut on that movie, to look for a director with more experience.
Deadline stresses that DC Films is not a carbon copy of Marvel Studios, and that Johns and Berg's jobs will be a little different from the one Feige holds at Marvel. For one thing, Warner Bros. plans to continue with its "director-driven" approach to the DC Films; Johns and Berg will just be there to "provide guidance and structure." Still, it sounds like they've picked up the right lessons from the competition. Feige's strong leadership has guided cohesive shared universe across 13 films, and putting Johns and Berg in charge should help DC do the same.
Berg, who's worked with Affleck on Argo and Live By Night, is described as a "conduit to" Ben Affleck. He was already working on Batman v Superman, Suicide Squad, Wonder Woman, and Justice League when the reorganization took palce. But it's Johns' involvement that should have superhero fans really psyched. Johns has been instrumental in developing DC Entertainment's thriving television slate, with shows like Arrow, The Flash, and Supergirl. On the comics side, he has been working on the upcoming reboot Rebirth. He's additionally been collaborating with Ben Affleck on a Batman solo movie. If anyone is qualified to manage DC's all-star stable of superheroes for the big screen, it's him.
DC Films is part of a larger restructuring at Warner Bros., which will have specific executives managing "genre streams." Courtenay Valenti will oversee the Lego and Harry Potter franchises, Jesse Ehrman will focus on comedy and family films, and Niija Kuykendall will handle sci-fi and action projects. And that's just the beginning, as more changes are expected to come to Warner Bros.' executive suite in the coming weeks.
It'll be a little while yet before we get a really good sense of how these changes have affected Warner Bros.' DC Extended Universe. (Even with the reshoots, most of Suicide Squad was developed and shot before DC Films came into existence, so it won't necessarily be a good reflection of these developments.) But it's a promising step in the right direction for a franchise that for too long has floundered against the competition.