LOL: 'The Nice Guys' Try To Figure Out How To Take On 'Angry Birds' And 'Captain America: Civil War'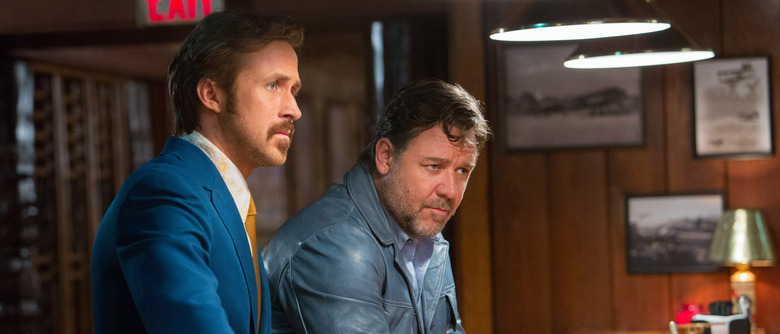 The Nice Guys has a lot going for it. It's got a A-list pairing in Ryan Gosling and Russell Crowe, and the verve and style of Kiss Kiss Bang Bang and Iron Man 3 mastermind Shane Black. Oh, and it's really, really good — a lovable mix of cynicism and sincerity, dropped against a cool '70s noir backdrop and liberally sprinkled with humor and charisma. What it doesn't have going for it, however, is a recognizable brand name. It's not a sequel to an already-beloved movie, like Neighbors 2: Sorority Rising or Captain America: Civil War. It's not even based on a phenomenally popular property from another medium, like The Angry Birds Movie.
So what are these schmucks to do? In a field like that, how is a scrappy little action-comedy like The Nice Guys supposed to compete? That's exactly what Nice Guys producer Joel Silver would like to know, as he loudly (and hilariously) rants to Gosling and Crowe in a meta bit of The Nice Guys marketing. They don't really come up with any good answers, but it sure is fun to watch them try. 
Well played, Nice Guys. True to their title, this video is really nice about the way it treats the competition. "I think there's a lot of unanswered questions from the first one that people want to know!" Gosling says of Neighbors 2: Sorority Rising. "He's a one-man charisma machine!" he adds of Captain America: Civil War star Robert Downey Jr. And even though Gosling's right (well, maybe not about the many "unanswered questions" of the Neighbors movies), the video is all the while capitalizing on the best thing Nice Guys has in its favor: the irresistible chemistry between Gosling and Crowe.
"Isn't it enough to just make a good film?" Gosling pleads at one point, and sadly it really isn't — in this day and age, you really do have to "tweet and retweet! tweet! retweet!" to get the word out. (Especially on days when Blac Chyna gets pregnant, apparently.) Fortunately, this video about just how terribly The Nice Guys promotional campaign is going, is exactly the kind of video that should find plenty of traction on Twitter. Go forth, and tweet and retweet the video on your own timeline.
The Nice Guys opens May 20.
"The Nice Guys" takes place in 1970s Los Angeles, when down-on-his-luck private eye Holland March (Gosling) and hired enforcer Jackson Healy (Crowe) must work together to solve the case of a missing girl and the seemingly unrelated death of a porn star. During their investigation, they uncover a shocking conspiracy that reaches up to the highest circles of power.