The 'Preacher' Opening Scene Is Here, Features Outer Space, Extreme Gore, And A Little Bit Of Willie Nelson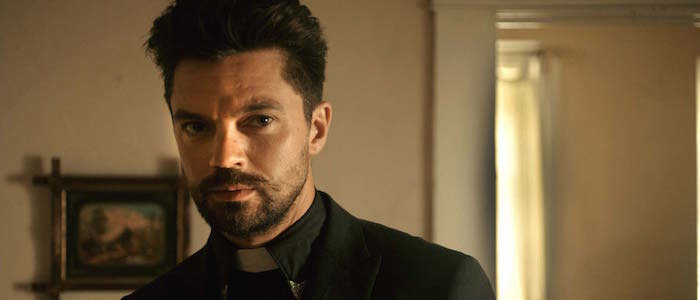 We're less than a week away from the series premiere of AMC's Preacher and I couldn't be more intrigued to see what Sam Catlin, Seth Rogen, and Evan Goldberg have done with Garth Ennis and Steve Dillon's twisted and hilarious comic series. By all accounts (the pilot was screened to a warm response at SXSW), the television adaptation uses the basic signposts of the acclaimed Vertigo comic while very much doing its own thing and that's perfectly fine. I love Preacher to death, but it's the kind of thing that needs to be massaged into shape for a television series.
AMC has released the opening scene from the first episode and it's a doozy, somehow managing to sum up a great deal of what this series is all about in 240 seconds. There's extreme violence, pitch-black comedy, a not-so-romantic look at Texas life, and the suggestion of a genuinely cosmic scale.
You can watch the Preacher opening scene in the embed below. Fans will be pleased to note the use of Willie Nelson's "Time of the Preacher," whose lyrics open the first panel of the first page of the original comic.
Naturally, this clip doesn't explain exactly what that thing spiraling through space is and what it does to the people it inhabits. These details are early revelations in the series, but it's likely that the show may sit on those finer points for a little while and allow it to stew. That's not the only mystery set up in this opening scene, though. As we meet Jesse Custer (Dominic Cooper), a hard-living small-town preacher with a dark past, the show offers the briefest of flashbacks to a certain traumatizing incident. This will be familiar to comic readers, but its inclusion here suggests that the show has its eye on some serious long-term storytelling. This particular subplot may be a little way down the road, if the comic book blueprint is any suggestion.
The rest of the show has more to offer, of course. This footage doesn't introduce us to Ruth Negga's Tulip, Jesse's career criminal ex-girlfriend who comes rolling into town. We also don't get the pleasure of meeting Joseph Gilgun's Cassidy, an eccentric Irishman with a very strange secret.
Preacher is set to premiere on AMC this Sunday, May 22, at 10:00 P.M. EST. That means people will be able to have a double feature of Preacher and Game of Thrones, which sounds like one fine evening of gruesome entertainment.