Curse God And Die: The 'Tetris' Movie Is A Trilogy Now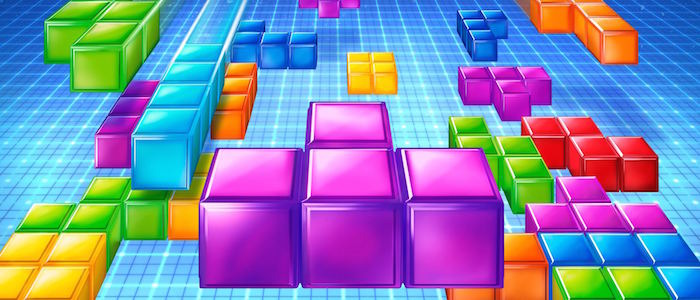 When a Tetris movie was announced a few years ago, the world reacted as you'd expect – with guffaws and the shaking of heads. It sounded like a joke from a goofy comedy set in a wacky version of Hollywood where people are stupid enough to make a Tetris movie. It sounded like the kind of thing that was never going to happen because who the hell would actually fund this thing and who the hell would actually go see it?
However, we made the same mistake so many people have made throughout human history. We didn't heed the warnings. We didn't take the threat seriously. And now, the Tetris movie has reared its ugly, blocky, multi-colored head once more...as a trilogy.
Yes, a trilogy of movies. Three films based on a video game without a plot or characters or even a theme. The problem with adapting Tetris is that there is literally nothing there. It's a puzzle game of quick reflexes and mental stimulation. This isn't like other barebones arcade games of its era, which were at least built on some kind of conflict that could be potentially expanded into a proper narrative. This is simply a naked attempt to use a very famous name to make a movie.
But what kind of movie? Deadline reports that producer Larry Kasanoff is currently in Cannes to help sell the project to international buyers. Like with the original announcement, plot details remain scarce, but it will be a science fiction film and "not at all what you think; it will be a cool surprise." The news that it is the first in a trilogy is the rotten cherry on top of the moldy sundae. I'm normally of the opinion that each and every movie should await proper judgment in a movie theater, but everything about Tetris The Movie makes my throat sting with vomit. Rarely has a proposed movie felt so proudly greedy.
Tetris The Movie will reportedly cost $80 million to make and will be a co-production between the United States and China under the new Threshold Global Studios banner. The film will reportedly film in 2017, utilizing Chinese locations with plenty of Chinese actors woven into the cast. With China being the hot new territory every studio is battling over (the nation's film culture is growing at an astonishing rate), this feels like the ugly next step in the war over the hearts and minds of Chinese moviegoers.
Who knows? Maybe Tetris The Movie will be great. Maybe the screenplay will be smart and find a way to carve exciting science fiction spectacle out of a game that doesn't feature any science fiction or spectacle. Maybe it will be directed with style and panache by a hungry filmmaker desperate to prove him or herself to a global audience. But right now, on paper, this is legitimately one of the most profoundly irritating pieces of movie news to arrive in years. The movie gods have abandoned us.