Fox Developing 'X-Force' Movie; Will "Female Wolverine" X-23 Be Involved?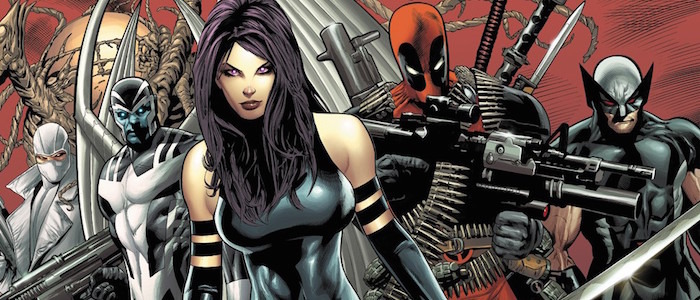 The on-again, off-again development process for Fox's X-Force movie seems to be back on again. X-Men: Apocalypse director Bryan Singer has revealed that the X-Men spinoff is still in the works, with Simon Kinberg already hard at work on the script. And what's more, that it may feature the fan-favorite comic book character X-23, essentially a female clone of Wolverine. 
Fandango got the X-Force update from Singer. The last serious update we got on the X-Force movie was in 2013, when we heard Jeff Wadlow had been hired to write and possibly direct. The version of the project didn't get very far, but Singer says efforts on an X-Force movie are still ongoing. "Simon is in the earliest script stage, so that's kind of where that stands, and we'll see how it evolves," he said.
Singer additionally teased the possibility of X-23 joining the team. "I have discussed that with the studio," he said. "I actually initially pitched the X-Force and the female." However, Singer himself is not heavily involved with X-Force at this time, as post-Apocalypse, he's turning all of his attention to 20,000 Leagues Under the Sea.
Created by Rob Liefeld and Fabian Nicieza, the X-Force are a team of superpowered mutants — but compared to the X-Men, they're darker, meaner, and more aggressive. As with any long-running comic book superhero team, the lineup has changed several times over the years. However, key members have included Deadpool, Colossus, Psylocke, Cable, and Wolverine. Deadpool and Colossus just starred together in Deadpool and Psylocke makes her live-action movie debut in X-Men: Apocalypse, so the time seems ripe for an X-Force team-up.
Wolverine probably won't be available to come out and play in X-Force, since 2017's Wolverine 3 will be Hugh Jackman's last outing as the character. But Singer's comments add some credence to recent rumors that X-23 could make her debut in that movie. In the comics, X-23 is the result of an experiment to clone Wolverine, and therefore has most of the same powers and a similarly tragic backstory. Jackman's Wolverine has anchored the franchise since its inception, and X-23 could help fill the niche that he'll leave behind.
Since the X-Force and the X-Men exist in the same universe, naturally the question came up of whether all these mutant characters could someday appear in a single film. According to Singer, a crossover is "absolutely" on the table:
But it has to be done right. Anytime you throw all these characters together to hit a start date, it can make a lot of money, but it can also be a clusterfuck. To me, it has to be done with a lot of care. These things can get overwhelming, and if a character doesn't belong in a movie, don't use him. If the tone can still maintain itself, I'm all for it. What I'm not for is throwing a bunch of characters together and hoping it works.
In the meantime, while we dream of an X-Force movie, X-Men: Apocalypse opens May 27 and Wolverine 3 on March 3, 2017.