Fox Brings Movies To TV: Watch The Trailers For 'Lethal Weapon', 'The Exorcist' & 'Rocky Horror Picture Show'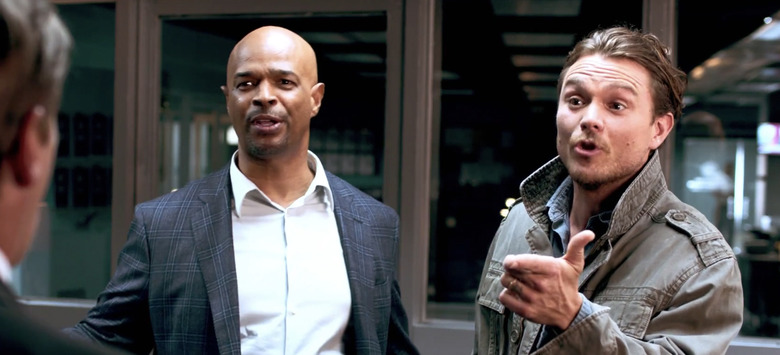 Movie studios aren't the only ones obsessed with remaking anything and everything. Television networks have jumped on board the lack-of-creativity train and have been working on recycling plenty of movies for the small screen. FOX has no less than three different remakes coming for the upcoming 2016-2017 season and they come in the form of TV shows for Lethal Weapon and The Exorcist as well as a TV movie version of the cult classic, The Rocky Horror Picture Show.
Watch the trailers for all three of these new projects after the jump.
Lethal Weapon
If you ever wanted to see what Lethal Weapon would look like if it was neutered and had absolutely all of its teeth removed, this is the show for you. All of the drama from the original movie feels so melodramatic and therefore so much less substantial in this Lethal Weapon TV series trailer. Clayne Crawford is decent enough as Martin Riggs, but Damon Wayans Sr. doesn't seem quite right as Roger Murtaugh in this trailer. Of course, it's hard to measure up to the original performances from Mel Gibson and Danny Glover, so maybe we should cut them a bit of slack. At least the two seem to have solid chemistry.
The real problem seems to be the TV series is going for the more outlandish and straight-up comedic tone that came in the later Lethal Weapon movies, specifically Lethal Weapon 4. But you have to deliver spectacle for network television, and people love police procedurals, so that's what we're getting with this remake.
Combining action and drama with friendship and humor, LETHAL WEAPON reboots the hit movie franchise, as it follows classic cop duo Riggs and Murtaugh, who are working a crime-ridden beat in modern-day Los Angeles. Grief-stricken after the loss of his young wife and unborn child, ex-Navy SEAL-turned-detective MARTIN RIGGS (Clayne Crawford, "Rectify") moves to California to "start over" at the LAPD. He's paired up with ROGER MURTAUGH (Emmy Award nominee Damon Wayans, Sr., "My Wife and Kids," "In Living Color"), who's just coming back to the job after a near-fatal heart attack. Riggs' penchant for diving headfirst into the line of fire immediately clashes with Murtaugh's prudent, by-the-book technique. It's clear from the moment they meet, this partnership could be lethal. But during their first case together, Riggs drags Murtaugh on a high-speed chase culminating inside the Long Beach Grand Prix and into a seaport shootout with drug dealers – and despite his protests, the older cop feels more alive than he has in years. Meanwhile, Riggs gets a glimpse of why Murtaugh is so determined to get home safely at the end of each day – he's got a family and a newborn baby of his own. By the time their investigation ends, Riggs realizes he may have found something worth living for – a partner and friend like Murtaugh. And even Murtaugh figures this arrangement might just work out after all. If only Riggs doesn't get them killed first.
Lethal Weapon premieres on Wednesdays this fall.
The Exorcist
If you're wondering how Fox is going to stretch out the adaptation of William Peter Blatty's classic The Exorcist, this trailer doesn't give any hints as to how that's going to work. But it does show us plenty of exorcism tropes that we'll be seeing as the show tries desperately to cling to the legacy of the original film by using the iconic track "Tubular Bells" at the end of the trailer.
At the very least, maybe having the pilot directed by Rupert Wyatt will help out this show. Plenty of people didn't think a Planet of the Apes prequel was a good idea, but Wyatt pulled something compelling out of it. That will be a little more difficult with horror on network television, but maybe we'll be surprised.
Widely regarded as the greatest horror movie ever made, "The Exorcist" broke box office records and terrified audiences around the world. Now, more than four decades after the Academy Award-nominated film, THE EXORCIST returns as a TV series. Directed by Rupert Wyatt ("Rise of the Planet of the Apes"), THE EXORCIST is a propulsive psychological thriller following two very different priests tackling one family's case of horrifying demonic possession. FATHER TOMAS ORTEGA (Alfonso Herrera, "Sense8," "The Chosen") is the new face of the Catholic Church: progressive, ambitious and compassionate. He runs a small but loyal parish in the suburbs of Chicago. He has no idea that his quiet life is about to change forever. Meanwhile, on the other side of the world, another priest finds himself locked in a life-and-death struggle with evil. FATHER MARCUS BRENNAN (Ben Daniels, "Flesh and Bone," "House of Cards") is a modern-day Templar Knight, an orphan raised since childhood by the Vatican to wage war against its enemies. Father Marcus is everything Father Tomas is not: relentless, abrasive and utterly consumed by his sacred mission. Caught in the middle is the RANCE family, members of Tomas' parish. On the surface, they're a normal, suburban family, but all is not as it seems in this household. The patriarch, HENRY RANCE (guest star Alan Ruck, "Spin City," "Ferris Bueller's Day Off"), is slowly but surely losing his mind. Eldest daughter KATHERINE (Brianne Howey, SCREAM QUEENS) has become a recluse who refuses to leave her room. Her younger sister, CASEY (Hannah Kasulka, "The Fosters"), thinks she's hearing strange noises coming from inside the walls.  And mother ANGELA (Academy Award and Golden Globe winner Geena Davis, "Commander in Chief," "Thelma & Louise") has been plagued by recurring nightmares, each more frightening than the last. Angela believes there is something in the house, a demonic presence, growing stronger by the day. Desperate, she begs Father Tomas for help, unwittingly setting the naïve young priest on a collision course with Father Marcus. Separately, each faces an insurmountable task, but together they become the only hope against an evil force that has been mobilizing for centuries.
The Exorcist premieres on Fridays this fall.
The Rocky Horror Picture Show
There's not much to go on with this 30-second teaser for The Rocky Horror Picture Show remake, but Laverne Cox does seem to be a fantastic new Dr. Frank-N-Furter. My only qualm is that this looks like a TV movie that was made on television studio soundstages. Maybe that's the idea to help add to the exaggerated nature of the musical itself (some of the sets in 1973 looked rather artificial as well), but it seems a bit distracting for my taste.
This is a cult classic, so I'm not sure how many fans are dying to see a new version. But since many of the hardcore fans put on their own rendition of the musical during midnight screenings of the movie, usually around Halloween, maybe it will just give them another chance to put on their best corsets and do the time warp again.
A reimagining of the original movie, the two-hour event follows sweethearts JANET (Victoria Justice, "Victorious") and BRAD (Ryan McCartan, "Liv & Maddie," "Heathers the Musical"), who stumble upon DR. FRANK-N-FURTER's (Emmy Award-nominated actress Laverne Cox, "Orange is the New Black") bizarre abode. Frank-N-Furter, a sexually ambiguous, flirtatious mad-scientist, is holding an annual Transylvanian science convention to showcase the birth of ROCKY HORROR – a muscle-bound specimen created solely to fulfill Frank's desires. Actor and singer Staz Nair ("Game of Thrones") will star in the role. Also featured in the event are AMERICAN IDOL alum Adam Lambert as EDDIE, Reeve Carney ("Penny Dreadful," "Spider-Man Turn Off the Dark") as RIFF RAFF, Tony Award winner Annaleigh Ashford ("Sylvia," "You Can't Take It With You," "Masters of Sex") as COLUMBIA, Christina Milian ("Grandfathered") as MAGENTA, Ivy Levan as USHERETTE, Tony Award winner Ben Vereen ("Pippin") as DR. EVERETT SCOTT and Emmy Award nominee Tim Curry, the original Frank-N-Furter, as the show's CRIMINOLOGIST NARRATOR.
The Rocky Horror Picture Show premieres in October.
***
None of these remakes look particularly intriguing. However, The Rocky Horror Picture Show seems like the best one out of the batch, and that's with barely any footage. That's mostly because the network version of Lethal Weapon and The Exorcist can't measure up to the legacy of what they're trying to remake, which is the biggest problem with all the recycling going on in the entertainment industry nowadays.
With television, it usually takes a few episodes, sometimes more, for a show to find itself. So maybe Lethal Weapon and The Exorcist just need some time to find their footing with audiences. If not, they can join the myriad of shows that get canceled every season.
If you want to see more trailers for the new shows coming to Fox this fall, you can watch the 24: Legacy and Prison Break revival trailers right here. There's also trailers for Phil Lord & Chris Miller's comedies Making History and Son of Zorn right here.