Warner Bros. Considering Harley Quinn Movie Starring Margot Robbie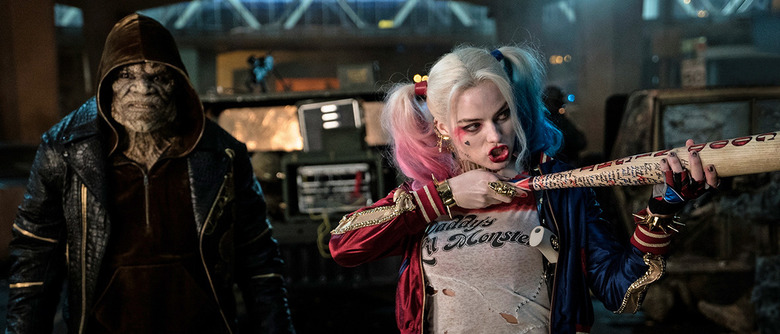 Suicide Squad won't be in theaters for a few months yet, but based on the trailers, it already looks like Margot Robbie's Harley Quinn will be the breakout star of David Ayer's DC supervillain line-up. And Warner Bros. seems to thinks so, too. The studio is reportedly considering a spinoff that would center on Harley Quinn and several other female heroes and villains from DC Comics. 
THR, which broke the news of the Harley Quinn movie, emphasizes that this would not be a solo outing for the fan-favorite villain, but an ensemble featuring other characters. Batgirl and the Birds of Prey have been floated as possibilities, though we don't know exactly how they might fit into the film. For that matter, we don't know for sure that they'll be in the film at all. Warner Bros. has yet to officially confirm their plans for a Harley Quinn movie.
Robbie, who'll make her debut as Harley Quinn in Suicide Squad, is attached to return and would produce. Warner Bros. already has a female screenwriter plugging away at the script, though her identity has not been revealed at this time. Robbie has already been a huge driving force behind this project — she's the one who found the screenwriter to develop the film before bringing it to Warner Bros. No director is on board yet.
Harley Quinn is the rare classic DC character who debuted on the screen, not on the page. She was initially created as a one-off character for Batman: The Animated Series, serving as a sidekick to the already established Joker character, but proved so popular that she stuck around on the show and eventually branched out into other DC media like comics and video games. Suicide Squad marks her first live-action big-screen iteration.
Warner Bros.' DC Extended Universe has gotten off to a shaky start. Both Man of Steel and Batman v Superman: Dawn of Justice made plenty of money, but many fans took issue with their dark and dour tone. The studio seems to be taking steps to correct course — some reports claim Suicide Squad went in for reshoots to add more levity — and a film centered on the iconic Harley Quinn could be a step in the right direction.
The Harley Quinn movie further extends Robbie's relationship with the studio. She and Suicide Squad co-star Will Smith led Glenn Ficarra and John Requa's Focus for Warner Bros. last year, and she also stars in the studio's Legend of Tarzan, due out this summer with Alexander Skarsgard in the lead role.