Episode 8 Bits: More Photos From The Irish Sets, John Boyega Praises Kelly Marie Tran, And Oscar Isaac Promises "A Lot Of Conflict"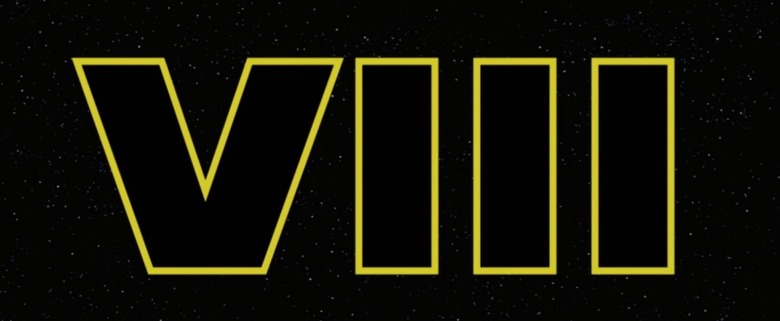 In today's edition of Episode 8 Bits:
Oscar Isaac continues comparing Star Wars: Episode 8 to an independent film.
John Boyega praises his new co-star Kelly Marie Tran.
Carrie Fisher is heading to Star Wars Celebration.
Footage of Daisy Ridley on set has shown up online.
A very interesting airport arrival time...
Pictures of the Millennium Falcon being constructed in Ireland.
Notes on Lucasfilm's security on the Irish sets.
Will Ireland allow some of the sets to stay standing as tourist attractions?
A rumor about IMAX cameras...and an accident.
Oscar Isaac has been doing press for X-Men: Age of Apocalypse, which means that he's been fielding a lot of questions about Star Wars: Episode 8. Collider caught up with Isaac at a screening of Apocalypse in London and the man behind Poe Dameron explained how his day had gone:
Today, Poe was doing a very cool stunt in Pinewood, and then I took a nap and came here.
Meanwhile, Entertainment Tonight managed to snag a slightly more detailed answer from Isaac, who explained why Episode 8 reminds him of an independent film:
Obviously it's this huge, huge thing but it's more about the quality of what it feels like to film specially with the new additions to the cast, like Laura Dern and Benicio Del Toro, they're incredible actors and Rian [Johnson], his sensibility is one of smaller films. So, within all of the bigness and the epic scope of the film, it does feel like we're getting to find some of that nuance and that intimacy.
And since this the middle chapter of a trilogy, Isaac went on to promise that everyone is going to the crap kicked out of them:
Poe, he gets to be more a part of the story, and all of the characters in the film, they get tested, intensely. It's a lot of conflict in it, which is great.
Spotting of Rye OMG @_DaisyRidley_ in #Malin @DonegalTV @VisitInishowen pic.twitter.com/rSCK9OD5wZ

— sammy (@sammymcguinn) May 15, 2016
Oscar Isaac may not be saying much, but a family driving by the set in Ireland managed to snag a brief video of Daisy Ridley on set. Her costume hasn't appeared to have changed much, but how about that gorgeous coastline? Anyway, the best thing about this video is just how excited the girls behind the camera are to see Rey in person. It's adorable and proof that having female leads in movies like this truly matters.
#Chewbacca aka the Hairy Lad seen at Malin Head!!! Plus Light show now on!

— Wild Atlantic Gifts (@Wildatlanticgif) May 14, 2016
Meanwhile, others took to Twitter to report that Chewbacca has been reportedly sighted at the Malin Head locations in Ireland, which makes sense. He did accompany Rey to Luke's secret hideout.
OMG the Millennium Falcon is being Built now down the road at Malin Head. Hopefully heading there soon. #StarWars pic.twitter.com/UQdsomZ0sd

— Chris Hasson 🌤☘️ (@watchallirish) May 10, 2016
But most importantly, another Twitter user managed to snap a few shots of what certainly looks like the Millennium Falcon being constructed on the rocky coats of Malin Head. That's quite an image when taken by a cameraphone at a distance with workmen still around. Imagine how that's going to look in camera.
Great shot of the Millennium Falcon at Malin Head Donegal from over the weekend #StarWars pic.twitter.com/L1z4Th4Pfx

— Tom Lyons (@TomLyonsBiz) May 16, 2016
And while we're here, how about one more? This one isn't as close as the previous pictures, but it really does show off the gorgeous Irish landscapes that the Episode 8 crew has been utilizing for Ahch-To.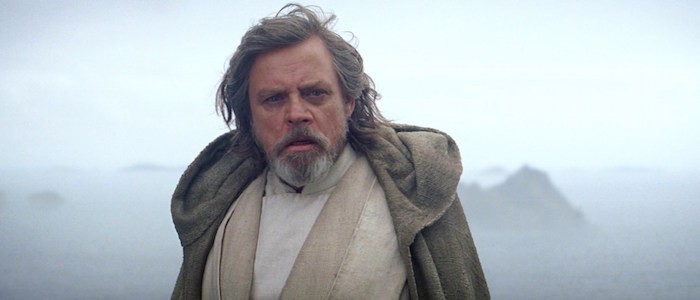 All of these photos arrive on the heels of an Irish Examiner report claiming that production was taking special considerations to keep fans from photographing the sets:
A ring of steel has been erected around some of the country's most scenic coastal landscapes. Along with dozens of security guards, film bosses have brought in a wi-fi blocker to ensure drones cannot be used.
Donegal County Council said some roads were closed to the public until Monday.
The IAA warned unauthorised drones may be seized by gardaí "as evidence for potential prosecution and in the interest of aviation safety."
To be fair, security will certainly step up in a huge way once construction is finished and more of the major actors begin arriving to shoot their scenes. At the same time, there were reports of tourists flooding the area far in advance of filming so they could try to sneak a peek at what's going on. Lucasfilm security is going to be beating Star Wars fans back with wooden sticks.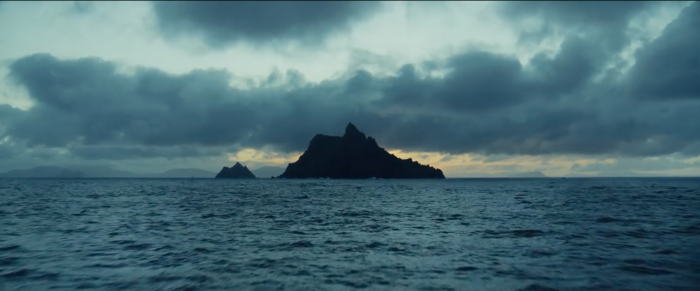 The Irish communities where Episode 8 is being filmed know that these movies attract tourists like magnets. For example, residents near Ceann Sibéal have already expressed interest in the distinct "beehive huts" that were constructed nearby being made permeant additions to landscape, giving tourists another reason to the visit the area (and pump money into the local economy). Via Radio Kerry:
The Fianna Fáil councillor said one of the county's "great regrets" was the levelling of the village constructed in Dún Chaoin to film Ryan's Daughter in the early 1970s.
She asked what would happen to the beehive huts at Ceann Sibéal once filming for Star Wars had concluded.
Cllr Foley said the Beehive Huts had "huge potential" from a tourism perspective.
She asked could this potential be harvested in some way – either in Tralee or elsewhere.
Responding to Cllr Foley's query, Tralee Town Manager Michael Scanell said the possibility of the beehive huts being retained as a tourist attraction was "slim".
He added however a "pro-active approach" would be taken in exploring options in relation to the matter.
However, it is easy to understand why the town manger would be reluctant on this front. Star Wars fandom cash would be fleeting, but the area's natural beauty is forever. One must be weighed against another in the long run.
Meanwhile, a rumor has emerged that IMAX cameras were "damaged beyond repair" when they fell off a cliff while filming. This hasn't been confirmed in the slightest, so take it with the necessary grain of salt. If true, this would be the first time we've heard of IMAX cameras being used on this film. And if true, the production could be in trouble. You don't just walk into a store and buy an IMAX camera. There aren't that many of them and they are impossibly expensive.
Interestingly, Mark Hamill, Daisy Ridley, and Adam Driver were all photographed arriving at Belfast International airport together. That could mean nothing – they're just heading off to different sets. Or it could mean everything – Kylo Ren, Rey, and Luke may share a scene. For a chuckle, check out the pictures above, where Hamill, a veteran celebrity/showman/ham, waves to fans while the newly famous Ridley and Driver do their absolute best to not be noticed.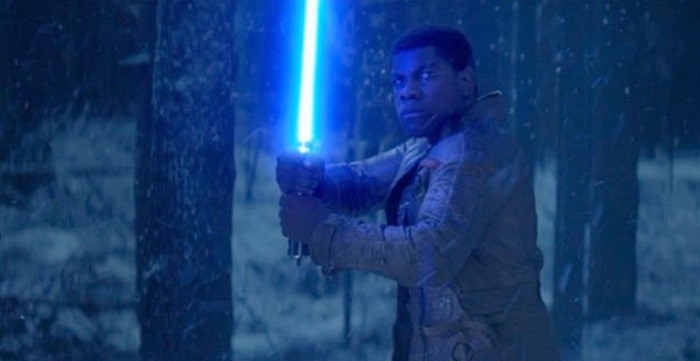 Last week, rumors emerged that Tom Hardy would play a small cameo role as a Stormtrooper in Episode 8, much like how Daniel Craig put on one of those iconic helmets for The Force Awakens. Naturally, Vulture asked John Boyega about this cameo at the Cannes Film Festival and he didn't say much. Or he doesn't know anything. he joked:
Okay. Okay. Next time I go on set I'm going to release a helmet and see if Tom Hardy's in there!
The interview did get more substantial, especially when Boyega was asked about Kelly Marie Tran, who the first Asian actor to play a major role in a Star Wars movie:
I love her. I love her. I think she's fantastic. But she'll tell her own story. I feel it's always weird or wrong for someone the world hasn't met, for me to come and start talking about her.
When asked if they would share a lot of scenes in the movie, Boyega deflected the question:
Girl, you know I can't tell you that! [Laughs.] I don't know what I can and can't say. [It depends on] what beeps in my head whenever I ... [He indicates that he has an explosive device implanted in his temple]. But she's fully in the movie, she's a great character, and I can't wait for you guys to be introduced to her.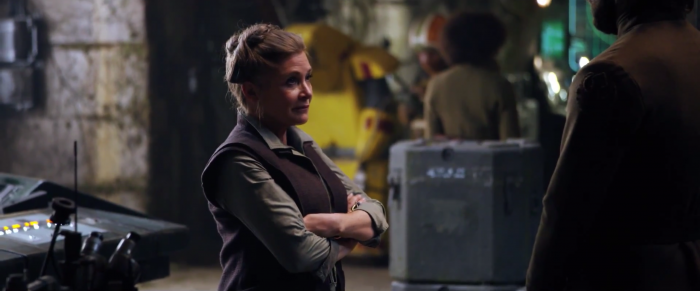 Here's some good news for people already planning to attend Star Wars Celebration in London this year. The great Carrie Fisher has been confirmed as a guest, although the exact nature of her role remains unknown. In the past, special guests have acted as panelists and signed autographs, so it's easy to imagine Fisher doing both. She joins an increasingly impressive guest line-up that already includes Mark Hamill, Kathleen Kennedy, and Rogue One director Gareth Edwards. Meanwhile, StarWars.com, Nerdist, and IGN writer Amy Ratcliffe has been confirmed as the third stage host, joining Warwick Davis and David Collins.