AMC Gives 'Preacher' An After Show, Plus Watch A New Trailer & Featurettes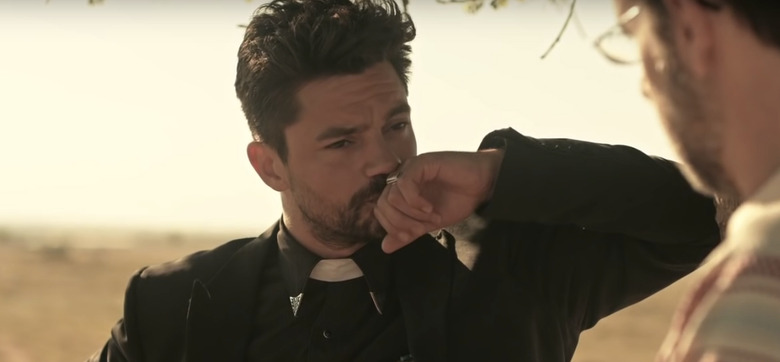 Like the rest of AMC's popular dramas, including The Walking Dead, Fear the Walking Dead, Breaking Bad and Better Call Saul, the new comic book adaptation Preacher will be given an after show. Talking Preacher was announced on last night's edition of Talking Dead since next week brings the series premiere of Preacher on May 22. However, this after show won't be following every single new episode. You can get more details on the schedule after the jump.
If after shows aren't your bag, but you're still excited about Preacher arriving next weekend, there's a new Preacher trailer for you to check out below as well, along with a pretty extensive batch of featurettes available online as well.
Just like its after show predecessors, Talking Preacher will be an hour-long talk show hosted by Chris Hardwick that will bring cast members, producers creators and celebrity fans of the show to talk about the latest episode. But as we said, Talking Preacher won't follow the exact same schedule as the other after shows for AMC's programs.
Even though Preacher debuts on May 22, the first episode of Talking Preacher won't debut until May 29 at 10:30pm ET/PT following an encore airing of the pilot. Dominic Cooper will be one of the guests along with executive producers Seth Rogen, Evan Goldberg and Sam Catlin. Then the next edition of Talking Preacher won't air until after the season finale on July 31 at 10pm ET/PT with guests to be revealed at a later date.
Now that we have all that out of the way, Chris Hardwick also posted a new Preacher trailer last night:
Here's a brand new #Preacher trailer! This show is going to make you happy in every way whether you read the comics or not. It's a violent, action Western w/ GREAT characters and a Coen brothers-esque vibe. Preacher premieres next Sunday May 22nd at 10p in between the @feartwd & @amctalkingdead mid-season finale and then we're doing a special Talking Preacher on May 29th w/ @sethrogen Evan Goldberg, Sam Catlin and Dominic Cooper (who plays Jesse/Preacher). ENJOY!!!
A video posted by Chris Hardwick (@hardwick) on
The trailer stylishly runs through all the important characters from the show: Tulip O'Hare (Ruth Negga), the ex-girlfriend of the title character Jesse Custer and a lethal, dangerous woman; Emily Woodrow (Lucy Griffiths), a new character created just for the show as the loyal right hand of the preacher; Sheriff Hugo Root (W. Earl Brown) and his son Eugene (Ian Colletti), also known as Arseface, due to the scars that remain after a failed suicide attempt; Donny Schenck (Derek Wilson), someone Jesse will end up having a confrontation with down the road; DeBlanc (Anatol Yusef) and Fiore (Tom Brooke) dragging a body in a trunk; Cassidy (Joe Gilgun), an Irish vampire who spends a lot of time at the bar; and finally, Dominic Cooper as Jesse Custer.
That's quite a colorful cast of characters, and it's a lot to take in for anyone who hasn't read the comic books. But if you're looking to learn even more about these characters, here's a brand new featurette taking an even closer look:
Otherwise, here's another in-depth look at Preacher, including footage from the set of the TV series, in a couple more featurettes. It's probably the best crash course you can get to learn what you need to know about the series:
Based on Garth Ennis and Steve Dillon's popular '90's comic book franchise of the same name, "Preacher" is a supernatural, twisted and darkly comedic drama that follows a West Texas preacher named Jesse Custer, who is inhabited by a mysterious entity that causes him to develop a highly unusual power. Jesse, his badass ex-girlfriend Tulip and an Irish vagabond named Cassidy come together and when they do, they are thrust into a crazy world populated by a cast of characters from Heaven, Hell and everywhere in between.
Preacher debuts Sunday, May 22 at 10pm ET/PT with a 90-minute premiere episode. New episodes resume Sunday, June 5 at its regular time of 9pm ET/PT.