'The BFG' Early Buzz: Mixed Reviews Find Charm But Maybe Not Enough Spielberg Magic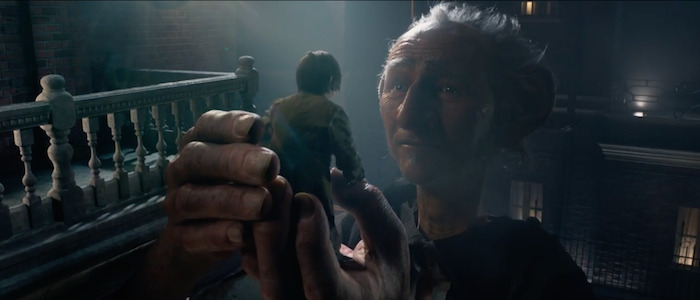 The 2016 Cannes Film Festival is in full swing, and some of the year's biggest films are premiering there. One of the more anticipated titles is The BFG, marking the return of Steven Spielberg to family film territory. The movie reunites Spielberg with his Oscar-winning Bridge of Spies star Mark Rylance and newcomer Ruby Barnhill for an adaptation of Roald Dahl's classic novel about a young girl who befriends a "big friendly giant."
The BFG just debuted at Cannes this weekend, and reviews and reactions are already hitting the web. The good news is that young children should enjoy the whimsical Disney fantasy film, but for some, the movie is missing a little bit of the magic that Spielberg's family fare usually has. Check out some of The BFG reviews after the jump.
Peter Bradshaw at The Guardian found a lot to love about the film:
The BFG is big friendly giant of a film from a director who knows how to make films on that note and on that scale. With boldness and sweep, he creates a Spielberg-BFG myth with hints of Oscar Wilde's selfish giant, Jack and the Beanstalk and the Nutcracker Suite.
Todd McCarthy over at The Hollywood Reporter wasn't as keen on the film:
An uncanny thematic mirror to E.T. some 34 years later, Steven Spielberg and Melissa Mathison's The BFG emerges as a conspicuously less captivating, magical and transporting experience than its classic forebear. Quite literally about the value and importance of dreams to the exclusion of almost anything else, this adaptation of Roald Dahl's enduring classic (published, coincidentally, the same year E.T. came out) sees the director diving deep into a technological bag of tricks to mix giants and humans on the same cinematic stage.  Big commercial results loom for Disney's major early July release, but the two-hour two-hander drags with too much dialogue during the first half and never truly achieves narrative lift-off.
But Peter Debruge at Variety fell in love with the film:
No matter how fantastical the tale (and it gets pretty out-there at points), this splendid Steven Spielberg-directed adaptation makes it possible for audiences of all ages to wrap their heads around one of the unlikeliest friendships in cinema history, resulting in the sort of instant family classic "human beans" once relied upon Disney to deliver.
Eric Kohn at IndieWire noted that the audience was already keen on The BFG before the film even started, applauding when the Amblin Entertainment logo appeared on the screen. This is something that happens frequently at film festivals, especially when it's the world premiere. But Kohn observed:
The reverence for this preeminent commercial storyteller goes so deep that his adaptation of Roald Dahl's beloved 1982 children's book arrived at the festival as though it had nothing to prove. And indeed, anyone familiar with Dahl's original work will find that this faithful treatment of the material merges quite organically with the usual Spielbergian tropes, although in this case it feels more like an illustration of preexisting skill than a paragon of its powers.
Over at The Telegraph, Robbie Collin was much more kind to the film:
But as the film plays, the technology itself just melts away. You're watching a girl and a giant explore a landscape of astonishments – and while the note-perfect script, written by the late Melissa Matheson (who also scripted E.T.), treats Dahl's words with radiant respect, it also subtly reworks them to make the story cinematic to its soul. With its velvety, butter-icing colours, spiritual sensitivity to geography and landscape, and swirls of romantic mysticism, The BFG feels very much like Spielberg's Powell and Pressburger film – it's a picture that could have only been made now, but feels rooted in the past.
But Rory O'Connor from our friends at The Film Stage was on the other side of the fence:
CGI loses the day in Steven Spielberg's The BFG, a partly motion-captured, eco-minded adaptation of Roald Dahl's adored children's book that leans so heavily on green-screen trickery that even Mark Rylance's kind eyes — squinting out from that computer-generated abyss — can't save it from mediocrity. The plotline of a friendly, dream-blowing giant who takes an orphaned girl under his wing has the great director's name all over it, but those expecting something for the whole family here may feel a little let down. That is, unless fart-propelled corgis fizzing around Buckingham Palace is your kind of thing. (However, that's nowhere near as funny as it sounds.)
If you're looking for some more succinct thoughts, here's some tweets straight from Cannes:
In terms of Spielberg children spectacles: ET > Hook > Tintin > The BFG #Cannes2016 #Cannes

— Nigel Smith (@nigelmfs) May 14, 2016
The BFG: charming in parts, middling in others. Very young kids will love it. #Cannes2016 #Cannes

— Nigel Smith (@nigelmfs) May 14, 2016
The BFG. Should be fun for kids, but where is the story? Lots ofCGI makes it look part beautiful, part hideous. #Cannes2016

— Alexander Kardelo (@dunerfors) May 14, 2016
Steven Spielberg's The BFG has many of the correct ingredients but is missing spice, and soul #Cannes2016

— Steven Zeitchik (@zeitchikWaPo) May 14, 2016
The BFG – Definitely a kids movie. A whimsical fairy tale about dreams. Not as exciting or engaging as expected, kind of a let down. Ho hum.

— Alex B. (@firstshowing) May 14, 2016
Is #TheBFG the first Spielberg movie with fart jokes?

Anyway, it was nice. #Cannes2016

— erickohn (@erickohn) May 14, 2016
The reviews on The BFG seem to be mixed. There's plenty of respect for the visual effects wizardry and Spielberg's gift for childhood fantasy. But the reviewers who didn't fall in love with the film found that the movie was a by the numbers adventure for Spielberg that coasted on the director's fame as a gifted storyteller. The BFG will undoubtedly be a hit for Disney, and it sounds like kids will love it. But adult viewers may find it lacking in substance. If you haven't seen it yet, you can watch the full trailer right here.