'The Neon Demon' International Trailer: "Are We Having A Party Or Something?"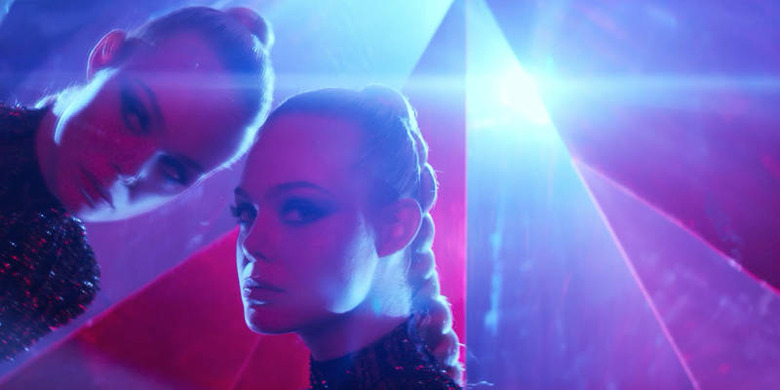 "Beauty isn't everything; it's the only thing," Keanu Reeves' (John Wick) character claims in The Neon Demon international trailer. We haven't seen much of Reeves in the past trailers for the film, and, thankfully, the international trailer continues to portray him as more of a background player. Besides plenty of neon lighting and blood, we still don't fully know what to expect from Nicolas Winding Refn's upcoming film. While international trailers tend to have a habit of spoiling surprises or major plot points, this one doesn't appear to reveal too much from the Drive and Only God Forgive director's latest project.
Watch The Neon Demon international trailer below.
Here's The Neon Demon international trailer (via The Playlist):
The horror picture stars Elle Fanning (Super 8), Abbey Lee (Mad Max: Fury Road), Christina Hendricks (Mad Men), Jena Malone (The Hunger Games franchise), and Bella Heathcote (Not Fade Away). Because Refn has spent a majority of his career making movies about violent men, he decided to finally write and direct a story about violent women. Amazon Studios and Broad Green Pictures recently teamed up to distribute The Neon Demon. Refn's film will open in limited release this June, and three months later it'll be made available to stream for Amazon Prime customers.
Composer Cliff Martinez (The Knick), a frequent collaborator of Refn's, worked on the film. His music featured in the international trailer sounds like the most aggressive score he's composed for the filmmaker to date. Martinez has said that his latest score shares some similarities with Drive, but this time around, the music plays a more vital role. Martinez told Vice that "there's a lot of places where the music is really pushed out more into the spotlight, even more than Drive." He added that it's a "sparse electronic" score, almost "all synthesizer." The composer went on to describe The Neon Demon as a cross between The Valley of the Dolls and The Texas Chainsaw Massacre, a delightfully vicious sounding combo that will soon make its debut at the currently ongoing Cannes Film Festival. Expect to see the first reviews for Nicolas Winding Refn's The Neon Demon next week.
Here's the official synopsis for The Neon Demon:
When aspiring model Jesse moves to Los Angeles, her youth and vitality are devoured by a group of beauty-obsessed women who will take any means necessary to get what she has.
The Neon Demon opens in limited release on June 24th.