Watch 'The BFG' Star Ruby Barnhill Stump Steven Spielberg During A Game Of Spielberg Trivia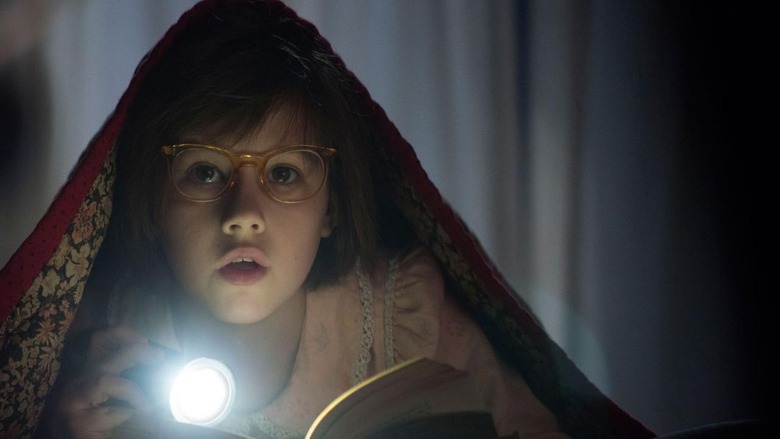 Steven Spielberg has gotten some exceptional performances out of child actors throughout his career. Rarely does a child's performance in a Spielberg film ring false. Empire of the Sun, E.T. The Extra-Terrestrial, Close Encounters of the Third Kind, A.I.: Artificial Intelligence, Jurassic Park, and The Temple of Doom star kids giving naturally charismatic and completely present performances. The director's goal has always been to talk to them like people, not just treat them like children–and that's evident in the video below featuring The BFG star Ruby Barnhill playing a round of Spielberg trivia with the director.
Here's Barnhill questioning the director about his past films and The BFG:
Godzilla vs. Bambi? See, that's why they pay Spielberg the big bucks: he's an idea man. Joking aside, this is far superior to most instances of a director and star getting together to hype an upcoming project. Barnhill and Spielberg's unmistakable rapport aside, the video contains plenty of fun facts regarding the director's body of work, like him not knowing The Temple of Doom is a prequel, although perhaps he was aware of that at the time. The BFG director has never been particularly fond of the sequel, so maybe the fact that it took place before Raiders of the Lost Ark slipped his mind.
The BFG is Spielberg's upcoming adaptation of Road Dahl's book of the same name. A "Big Friendly Giant" (Oscar winner Mark Rylance) takes young Sofie on an adventure to Giant County, where fellow Giants are slightly less friendly. Spielberg selected newcomer Ruby Barnhill for the role of Sofie. Up until she was cast in The BFG, the young actress had only appeared in the BBC series, Four O'Clock Club. After a lengthy casting process, Spielberg found that "Roald Dahl himself would have found Ruby every bit as marvelous as we do."
Here is the official synopsis for The BFG:
The BFG (Mark Rylance), while a giant himself, is a Big Friendly Giant and nothing like the other inhabitants of Giant Country. Standing 24-feet tall with enormous ears and a keen sense of smell, he is endearingly dim-witted and keeps to himself for the most part. Giants like Bloodbottler (Bill Hader) and Fleshlumpeater (Jemaine Clement) on the other hand, are twice as big and at least twice as scary and have been known to eat humans, while the BFG prefers Snozzcumber and Frobscottle. Upon her arrival in Giant Country, Sophie, a precocious 10-year-old girl from London, is initially frightened of the mysterious giant who has brought her to his cave, but soon comes to realize that the BFG is actually quite gentle and charming, and, having never met a giant before, has many questions.
The BFG opens in theaters on July 1st.