'Agent Carter' Canceled At ABC, 'Marvel's Most Wanted' No Longer Desired Either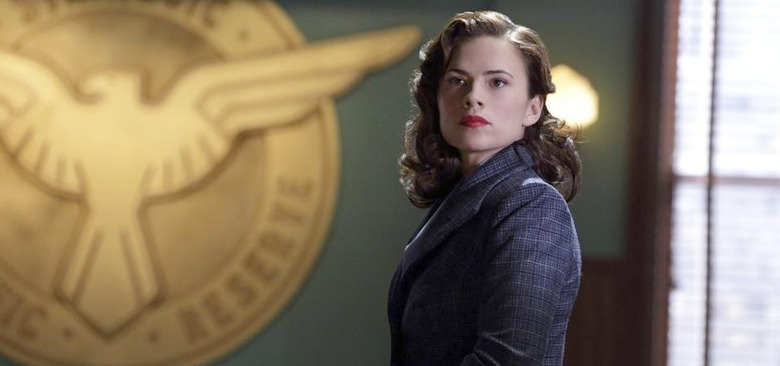 Just last week, news surfaced that the chances of Agent Carter getting renewed for a third season were not looking good. In addition, the developing new show Marvel's Most Wanted was no longer considered a lock for a series order. Today ABC brought the official word on both of the Marvel Studios television shows, and sadly, there's no good news for either one.
ABC has confirmed the reports on Agent Carter canceled and they're also not moving forward with Marvel's Most Wanted. Find out more after the jump.
Agent Carter has been canceled for the typical reasons that a network axes a show: ratings. According to TV Line, the second season finale of Agent Carter earlier this year only pulled in 2.35 million total viewers and only a 0.7 demo rating. If those numbers don't mean anything to you, just know that they were series lows for the show. That's not good, especially for a season finale.
It's a shame that Agent Carter wasn't pulling in the ratings, because having a Marvel series with a strong female lead was something fans were really happy about. Sadly, there just weren't enough fans to keep it going strong. Plus, even though Hayley Atwell was great in the role that originated in Captain America: The First Avenger, the show never really found sure footing and felt truly exciting or engaging.
If you're a Hayley Atwell fan, the good news is that ABC is keeping her around with a new drama called Conviction. The series will follow Atwell as the brilliant-but-rebellious daughter of a Clinton-like political family, who is forced into taking a job as the head of Los Angeles' newly created Conviction Integrity Unit. She and a team of lawyers, investigators and forensic experts, have just two weeks to examine cases where there's credible suspicion that the wrong person may have been convicted of a crime. That will premiere sometime this fall.
The bad news train keeps on moving for Marvel television as ABC also confirmed that Marvel's Most Wanted is not being pursued any longer. The series would have followed former SHIELD agents Bobbi Morse and Lance Hunter (Adrianne Palicki and Nick Blood from Agents of SHIELD) as they continue their espionage work off the grid.
The series was said to feature Bobbi and Hunter teaming up with Dominic Fortune, a rogue adventurer with a wealth of resources and even more adversaries, who agrees to protect them so long as they help him with his own agenda. While on dangerous missions that take them to every corner of the globe, the two heroes will help anyone in need, all while trying to uncover the conspiracy that put their own lives in jeopardy.
That doesn't sound like it would be much different from Agents of SHIELD, which is probably why ABC decided not to move forward. Honestly, Marvel Studios is probably better off just continuing their work at Netflix and building their television universe that way. But it's still a bummer that Agent Carter has been retired.