'The Light Between Oceans' Trailer: The Next Potential Tearjerker From Director Derek Cianfrance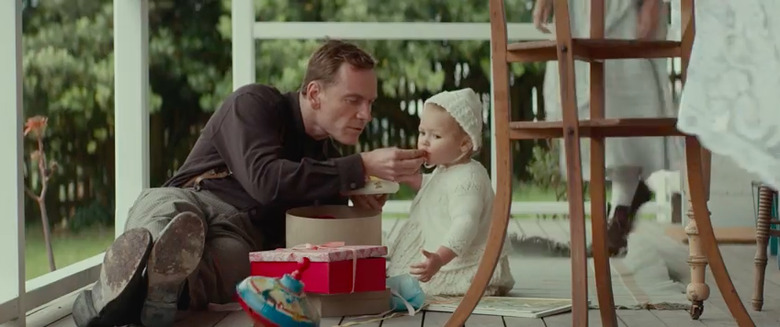 We are going to see a lot of Michael Fassbender in 2016. Fassbender stars in this summer's X-Men: Apocalypse, and we'll see him later this year in Terrence Malick's Weightless, Assassin's Creed, and possibly Trespass Against Us (which is scored by The Chemical Brothers). Another promising title on his schedule is The Light Between Oceans. Writer/director Derek Cianfrance's (The Place Beyond the Pines) adaptation of M.L. Stedman's novel stars Fassbender, recent Academy Award winner Alicia Vikander (The Danish Girl), and Rachel Weisz (The Lobster).
Watch The Light Between Oceans trailer below.
Fassbender plays Tom Sherbourne, a lighthouse keeper. Sherbourne lives with his wife, Isabel (Vikander), on a remote island in Western Australia, post-World War I. One day, Isabel hears a scream. A tiny boat is coming to shore, and it contains a baby girl. Tom and Isabel, wanting a child of their own, decide to raise her themselves. They name the child Lucy (who's played by a few actors in the film). The three of them live pleasant lives together, until one day Tom and Isabel come across Lucy's birth mother (Weisz).
Here's The Light Between Oceans trailer (source: Entertainment Tonight):
The Light Between Oceans looks equally lovely and heartbreaking, which is what we've come to expect from Derek Cianfrance. Blue Valentine and The Place Beyond the Pines are full of beauty and suffering. He's an honest storyteller that can easily get the waterworks flowing.The Light Between the Oceans is Cianfrance's first period piece, and it's shot by cinematographer Adam Arkapaw, who also collaborated with Fassbender on Assassin's Creed and the visually stunning Macbeth. Unsurprisingly, what we see of Cianfrance and Arkapaw's work in this trailer is gorgeous, especially the first shot of Tom, sorrowfully staring out at the ocean.
Here's the official synopsis for The Light Between Oceans:
From acclaimed director Derek Cianfrance, (Blue Valentine, A Place Beyond the Pines), and based on the extraordinary best-selling novel from M.L Stedman, THE LIGHT BETWEEN OCEANS, is a beautiful yet heart-breaking story of love and sacrifice.
On a remote Australian island in the years following World War I, lighthouse keeper Tom Sherbourne (Michael Fassbender) and his wife, Isabel (Alicia Vikander), discover a boat washed ashore carrying a dead man and a two-month old baby. Rescuing the infant, they make the decision to raise her as their own but the consequences of their choice prove to be devastating.
The Light Between Oceans opens in theaters on September 2nd.