'Hell Or High Water' Trailer: Ben Foster, Chris Pine, And Jeff Bridges Are Knocking On Heaven's Door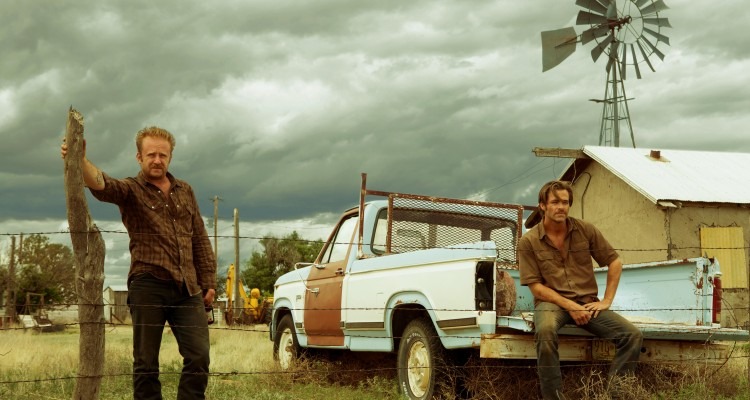 Lately, we've seen some trailers that begin with advertisements for the trailer. I don't understand this trend, but it seems to keep happening. Hell or High Water is the latest trailer to begin with an ad, including shots we see later on in the footage. Why you'd have to sell a trailer to someone who's already decided to watch it is beyond me, but enough about that. Let's instead focus on Hell or High Water, the upcoming film from Starred Up and Perfect Sense director David Mackenzie. Mackenzie's thriller stars Ben Foster, Chris Pine, Jeff Bridges, and more.
Watch the Hell or High Water trailer below.
Foster and Pine both have two major releases coming up – Warcraft and Star Trek: Beyond – but Hell or High Water is another studio film of theirs that'll open in theaters this summer. These two working with Mackenzie should lead to good results. The director got a stirring performance out of Jack O'Connell with Starred Up, and his film Perfect Sense (watch it on Netflix Instant) features two excellent, vulnerable performances from Ewan McGregor and Eve Green. Mackenzie is an actor's director, and it'll be interesting to see what he accomplished with a cast of this caliber.
Here's the Hell or High Water trailer:
In case that trailer didn't do it for you, then know this: Nick Cave and Warren Ellis scored the film. Their scores, including The Assassination of Jesse James by the Coward Robert Ford and The Proposition, are generally nothing short of remarkable. Their music is atmospheric and often emotional, which should serve this story about brothers well. Mackenzie's film is also written by Taylor Sheridan (Sicario) and produced by director Peter Berg (Friday Night Lights).
Here's the official synopsis for Hell or High Water:
A story about the collision of the Old and New West, two brothers—Toby (Chris Pine), a straight-living, divorced father trying to make a better life for his son; and Tanner (Ben Foster), a short-tempered ex-con with a loose trigger finger—come together to rob branch after branch of the bank that is foreclosing on their family land. The hold-ups are part of a last-ditch scheme to take back a future that powerful forces beyond their control have stolen from under their feet. Vengeance seems to be theirs until they find themselves in the crosshairs of a relentless, foul-mouthed Texas Ranger (Jeff Bridges) looking for one last triumph on the eve of his retirement. As the brothers plot a final bank heist to complete their plan, a showdown looms at the crossroads where the last honest law man and a pair of brothers with nothing to live for except family collide.
Hell Or High Water opens in theaters August 12th.