'Rocky Horror Picture Show' TV Remake First Look: Laverne Cox Is Dr. Frank-N-Furter

The Rocky Horror Picture Show is perhaps the biggest cult classic of all time. Even 41 years after its initial release, the campy, musical horror from director Jim Sharman still plays in theaters around the country every single week, with people dressing and cross-dressing up in their best leather and lingerie attire to act out the film with fellow Frank-N-Fans.
Now FOX will be bringing The Rocky Horror Picture Show to television as one of their event musicals in the vein of Grease Live! However, this one won't be a live broadcast, but merely a TV movie version of the musical about a newly engaged couple who have a breakdown in the middle of nowhere and find themselves looking for help at the the bizarre residence of Dr. Frank-N-Furter. The role of the transvestite doctor was played perfectly by Tim Curry in the original film, but the new version will be played by Orange Is the New Black star Laverne Cox, and we have a first look at her decked out in leather after the jump.
Here's the first look at Fox's Rocky Horror Picture Show remake from Entertainment Weekly: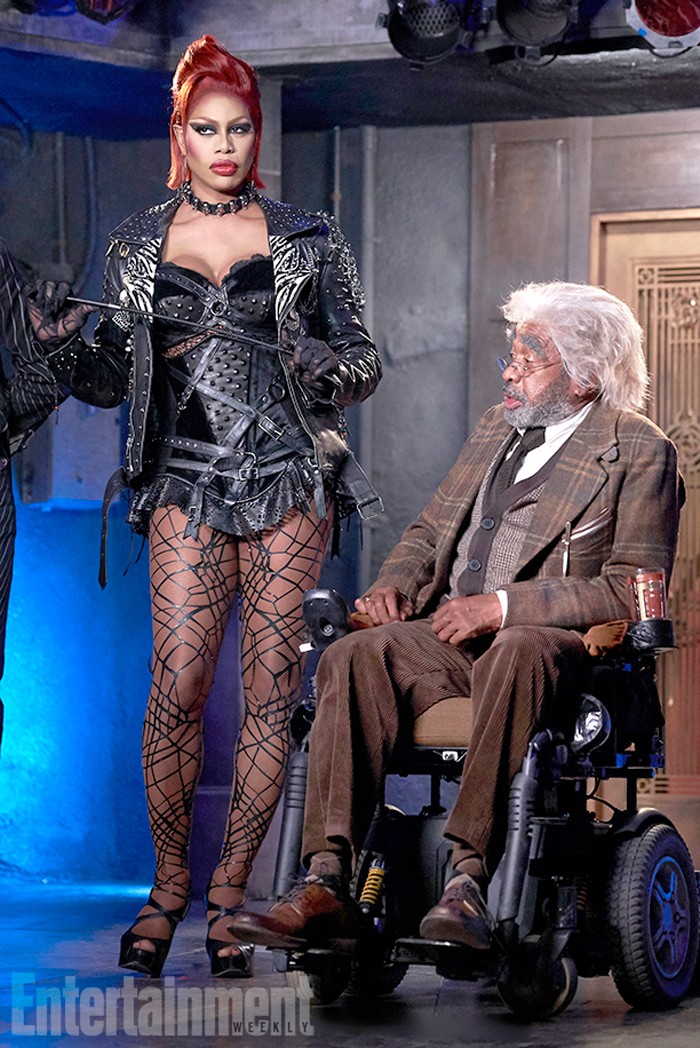 Laverne Cox looks pretty damn fabulous, though she seems a little less sexually ambiguous than Tim Curry was in the role back in 1975. Still, updating this movie for contemporary audiences should offer something that is simultaneously refreshing and familiar. There may be some fans skeptical, but they'll probably still be tuning in, and that's all that matters for Fox.
The rest of the cast includes Victoria Justice and Ryan McCartan in the lead roles as Janet and Brad, along with Adam Lambert as Eddie, Reeve Carney as Riff Raff, Staz Nair as Rocky, Annaleigh Ashford as Columbia and Christina Milian as Magenta.
The Rocky Horror Picture Show follows sweethearts Janet (Justice) and Brad (McCartan), who stumble upon Dr. Frank-N-Furter's (Cox) bizarre abode. Frank-N-Furter, a sexually ambiguous, flirtatious alien mad-scientist – with the help of his faithful servants, Riff Raff (Carney) and Magenta – is holding an annual, Transylvanian science convention to showcase the birth of "Rocky Horror" (Nair) – a fit, attractive man created solely to fulfill Frank's desires.
Executive-produced by Lou Adler (Grammy Award winner and Rock and Roll Hall of Fame inductee), Gail Berman (TV, film and Broadway producer) and Kenny Ortega ("High School Musical" franchise, "This Is It," "Descendants," "Hocus Pocus," "Newsies"), The Rocky Horror Picture Show is a reimagining of the cult classic, which is celebrating 40 years of theatrical distribution – longer than any other film in history. One of the most popular films of all time, it still plays in movie theaters around the world.
The Rocky Horror Picture Show premieres sometime this fall.