'Billy Lynn's Long Halftime Walk' Teaser Trailer: Ang Lee's Latest Goes To War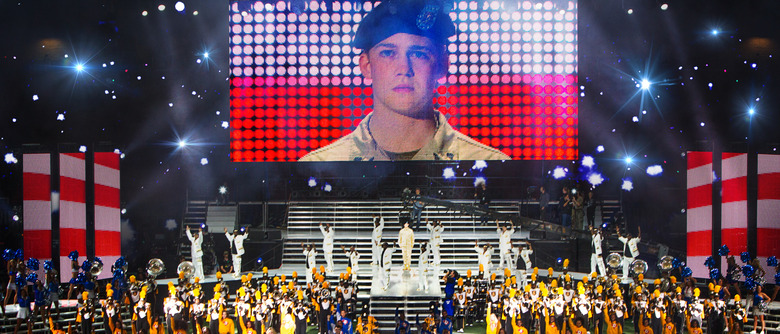 Sony Pictures has unveiled the first teaser trailer for Billy Lynn's Long Halftime Walk, Ang Lee's drama about a squad of soldiers who are brought home from Iraq for a victory tour around the U.S. Much has been made about Lee's groundbreaking use of 120 fps to heighten the realism of the war flashbacks, but the present day unfolds at a Thanksgiving Day football game, where the soldiers are to be honored in a glitzy halftime show.
"It is sort of weird being honored for the worst day of your life," observes Billy (played by newcomer Joe Alwyn), and that's this movie in a nutshell — it exists in the dizzying space between our sentimental celebration of the troops, and the harsh realities they face every day. Watch the Billy Lynn's Long Halftime Walk trailer after the jump. 
The "slowed down cover of a pop song" thing is way overdone at this point, but if you can get past that this looks like a pretty solid film. For starters, the cast is rock solid: it stars Vin Diesel, Kristen Stewart, Chris Tucker, Garrett Hedlund, and Steve Martin. And it's a wartime drama that deals not with the glory of battle or the politics that got us into said battle, but with what happens to the soldiers afterward. "Billy Lynn is a story of love, courage and devotion," Lee told USA Today in a recent interview. "It's the story of a young man learning his place in the world, and of the special brotherhood among men at arms, the depths of their bonds, and the sacrifices they make."
Billy Lynn's Long Halftime Walk arrives November 11 (Veteran's Day). Jean-Christophe Castelli wrote the screenplay based on the novel by Ben Fountain.
Three-time Academy Award® winner Ang Lee brings his extraordinary vision to Billy Lynn's Long Halftime Walk, based on the widely-acclaimed, bestselling novel. The film is told from the point of view of 19-year-old private Billy Lynn (newcomer Joe Alwyn) who, along with his fellow soldiers in Bravo Squad, becomes a hero after a harrowing Iraq battle and is brought home temporarily for a victory tour. Through flashbacks, culminating at the spectacular halftime show of the Thanksgiving Day football game, the film reveals what really happened to the squad – contrasting the realities of the war with America's perceptions. The film also stars Kristen Stewart, Chris Tucker, Garrett Hedlund, with Vin Diesel, and Steve Martin. Lee used new technology, shooting at an ultra-high frame rate for the first time in film history, to create an immersive digital experience helping him dramatize war in a way never seen before.