New 'Warcraft' Images Show Off Orcs, Warriors, And Ben Foster Dressed Like A Wizard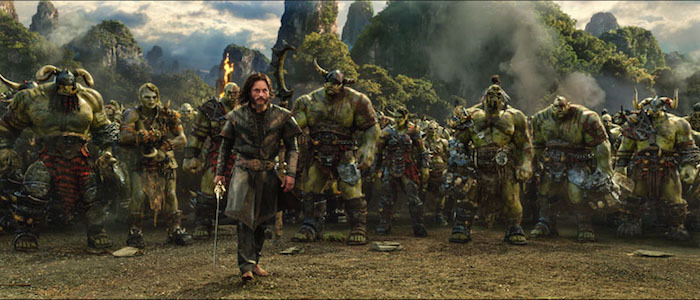 Warcraft has already screened for select groups of critics (including a member of the /Film crew), but you haven't heard anything because everyone is under a strict embargo. If you want to know more, feel free to pester the writer of your choice. They won't be able to say anything, but who knows? Maybe you'll annoy a detail or two out them.
In the meantime, the rest of us schmoes who haven't seen the movie have to entertain ourselves with a new gallery of images showing off the film's cast, which is roughly half live action actors and half motion capture orcs. Oh, and there's Ben Foster looking pretty damn cool as a wizard, which is a sentence I never thought I'd ever write. It's not Emily Blunt riding a polar bear, but it will do.
Based on the massively popular video game franchise, Warcraft is a fantasy epic that looks big and goofy and maybe, possibly, like a ton of fun. I know a few people who were baffled by the footage that screened at Comic-Con a little while back, but I remain hopeful. I'm not a dedicated fan of the source material, but I do enjoy the crazy lore and strange world that Blizzard meticulously built for its army of passionate fans. More than anything, I just want to see another completely unapologetic fantasy movie in theaters. It's been too long.
Warcraft is directed by Duncan Jones (of Moon and Source Code fame), written by Jones and Charles Leavitt, and stars Travis Fimmel, Paula Patton, Ben Foster, Dominic Cooper, Toby Kebbell, Ben Schnetzer, Rob Kazinsky and Daniel Wu. But most importantly, it features the great Clancy Brown playing an orc named Blackhand and let's face it – few actors have been born to play orcs quite like Mr. Brown. The man has presence.
Anyway, here's the official synopsis for anyone who has no idea what the hell is going on in this movie:
The peaceful realm of Azeroth stands on the brink of war as its civilization faces a fearsome race of invaders: Orc warriors fleeing their dying home to colonize another. As a portal opens to connect the two worlds, one army faces destruction and the other faces extinction. From opposing sides, two heroes are set on a collision course that will decide the fate of their family, their people and their home. So begins a spectacular saga of power and sacrifice in which war has many faces, and everyone fights for something.
Warcraft will open in international territories on May 25 before opening stateside on June 10. You can pursue the new gallery of images below at your leisure.