VOTD: Johnny Depp Surprises Disneyland Attendees As The Mad Hatter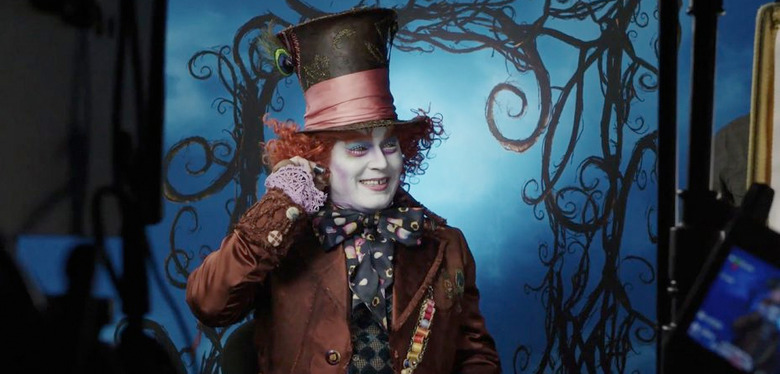 Looking to get some promotional mileage for Alice Through the Looking Glass, hitting theaters in a couple of weeks, Disney staged a pretty cool stunt at Disneyland in Anaheim, California involving Johnny Depp as The Mad Hatter.
Around the park there are plenty of advertisements for the forthcoming sequel, but one particular screen that was circulating through character posters was given a little modification. Johnny Depp was put into full wardrobe and make-up as The Mad Hatter and surprised fans by being livestreamed to the attendees of Disneyland as a living movie poster that could interact with the fans in real time. Watch the Johnny Depp Mad Hatter Disneyland stunt after the jump.
Here's the video of the stunt at Disneyland straight from Disney:
It's pretty cool to see fans caught off guard by the Mad Hatter actually being able to interact with them, especially that girl Heater who has her mind blown when Depp actually says her name back to her. If I were in the park, it would definitely have taken me awhile to be convinced that this wasn't just some advanced program, perhaps the same one that turned Johnny Depp into a computer in Transcendence.
Alice Through the Looking Glass isn't too far away. If you want to see more from the sequel, watch the most recent international trailer for Alice Through the Looking Glass along with two clips from the movie right here. There's no early buzz on the sequel just yet, but if the reviews for X-Men: Apocalypse are any indicator, the quirky fantasy from James Bobin might be a safer bet in theaters that weekend.
Alice Kingsleigh (Mia Wasikowska) has spent the past few years following in her father's footsteps and sailing the high seas. Upon her return to London, she comes across a magical looking glass and returns to the fantastical realm of Underland and her friends the White Rabbit (Michael Sheen), Absolem (Alan Rickman), the Cheshire Cat (Stephen Fry) and the Mad Hatter (Johnny Depp), who is not himself. The Hatter has lost his Muchness, so Mirana (Anne Hathaway) sends Alice on a quest to borrow the Chronosphere, a metallic globe inside the chamber of the Grand Clock which powers all time. Returning to the past, she comes across friends – and enemies – at different points in their lives, and embarks on a perilous race to save the Hatter before time runs out.
Alice Through the Looking Glass arrives this month on May 27.