'Jumanji' Reboot: Jack Black Will Roll The Dice With Dwayne Johnson & Kevin Hart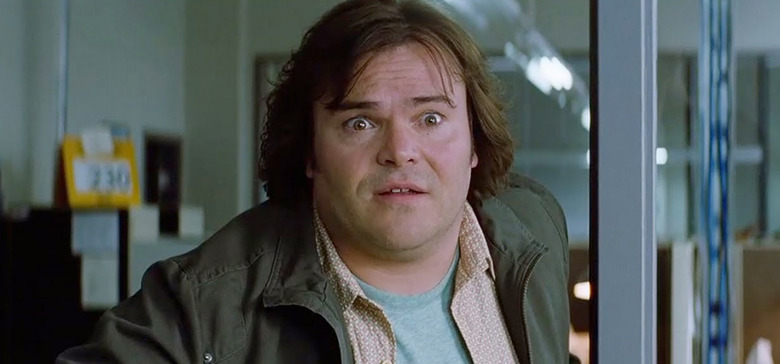 If there are any Orange County fans out there, and there really should be since it's a sorely underrated comedy, we have some good news. The high school comedy with Colin Hanks in his first starring role also featured Jack Black as his slacker, drugged up brother. Why are we talking about this? Because the forthcoming Jumanji reboot will feature a little Orange County reunion thanks to the fact that Jack Black has joined the cast. Find out more after the jump.
The Wrap reports Jack Black has just landed one of the five starring roles in Jumanji, a new adaptation of the children's book by author Chris Van Allsburg, who is also executive producing the film. Black joins a cast that now officially has Dwayne Johnson and Kevin Hart taking two of the other roles.
So what makes this an Orange County reunion? That comedy was directed by Jake Kasdan, and he's the one who has been hired to direct Jumanji. It certainly seems like Sony is going for a full-on comedy adventure, one that may be a little more geared towards adults than the original version starring Robin Williams (who will be honored in the new film somehow), Bonnie Hunt and a young Kirsten Dunst.
As of now, there are no details on how this reboot will handle the story. However, the core concept will likely remain the same with a group of people stumbling upon the dangerous board game that spawns animals from the jungle who wreak havoc wherever the game is played. Only someone making it to the end of the game can undo everything that comes out of the game.
Having a group of adults be the ones who experience the effects of Jumanji sounds like a really fun concept. Personally, I would have liked to see this concept played out as an R-rated adventure, something in the vein of Tropic Thunder (which also starred Jack Black). But if they're shooting for PG-13, maybe we'll get something akin to Land of the Lost, a better comedy than it's given credit for.
As of now, we know nothing about the characters Black, Johnson and Hart will play. But we know there are two more stars yet to be announced since Johnson recently said there would be five major roles to be filled by some of his "movie star buddies." Announcements were expected this week, so expect more on the Jumanji reboot cast as the week continues.