'Nerve' Trailer: Emma Roberts And Dave Franco Play The Most Dangerous (Online) Game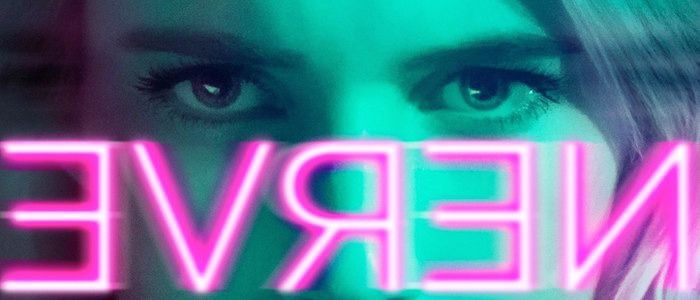 The movies have always had a fraught relationship with the internet, depicting the online world as a vile hellscape where there is no hope, only agony and humiliation and maybe even the end of the world. And that's not an entirely inaccurate description. The whole "the internet is pure evil" thing has been the subject of more than a few science fiction and horror films, with most of them building grand online conspiracies or using technology as the host for some king of supernatural evil. The arrival of a movie like Nerve proves that we're ready to start talking about really makes the internet such a wretched hive of scum and villainy: other people.
The Nerve trailer is all about Emma Roberts and Dave Franco versus The Internet and c'mon, we all know who's going to win that particular showdown. The internet devours all.
Directed by Ariel Schulman and Henry Joost, Nerve follows two strangers (Franco and Roberts) who are thrown together by an online "truth or dare" game, where "watchers" pay "players" increasingly large amounts of cash to do increasingly outlandish things for an audience watching from around the world. What begins as an innocent enough evening (kiss a stranger!) eventually devolves into hijinks of the '80s comedy variety (public nudity!) before plummeting both of them into a nightmare (high speed chases! Guns!).
You can watch the trailer below, but be warned that this is the kind of preview that seemingly gives away each and every important beat of the entire movie.
And it looks decent enough, I suppose. Schulman and Joost have previously explored how technology empowers and endangers people with their controversial documentary Catfish, but they've spent the time since then directing a few Paranormal Activity movies (one pretty good, one terrible), making shorts, and producing the Catfish television series. I don't have a handle on them as filmmakers beyond the knowledge that they're crafty and know how to put every penny of a low budget on the screen, so Nerve feels like their grand re-introduction to the world. What do they have to say and how will they say it?
Otherwise, Roberts and Franco are endearing enough screen presences, when utilized well. Let's wait and see what happens. Here's the official synopsis:
Industrious high school senior, Vee Delmonico [Emma Roberts], has had it with living life on the sidelines. When pressured by friends to join the popular online game Nerve, Vee decides to sign up for just one dare in what seems like harmless fun. But as she finds herself caught up in the thrill of the adrenaline-fueled competition partnered with a mysterious stranger [Dave Franco], the game begins to take a sinister turn with increasingly dangerous acts, leading her into a high stakes finale that will determine her entire future.
Nerve opens on July 27, 2016. You can check out two new character posters below, if you're so inclined.