Kathryn Bigelow Recruits 'Game Of Thrones' Star Hannah Murray For Her Next Film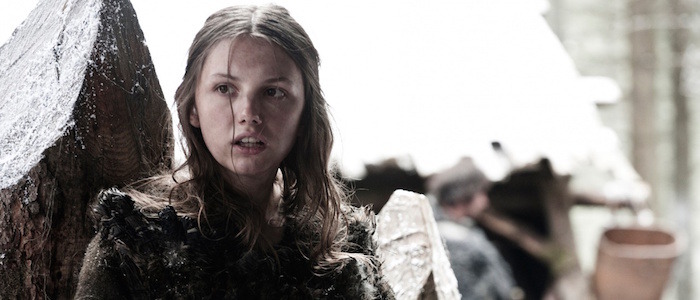 Oscar winner Kathryn Bigelow's next movie may not have a title, but it certainly has my attention. I'm already fully prepared to watch anything directed by the woman behind The Hurt Locker, Zero Dark Thirty, Near Dark, and yes, Point Break, but when she partners up with Annapurna Pictures, screenwriter Mark Boal, and subject matter that will surely rile up a fair number of people, you know that she's working on something special. That's a group of people who don't phone it in.
Now, another new names has joined this promising collective. Game of Thrones star Hannah Murray has entered talks to play a "key role" in the film, but like the title, the details are currently unknown.
The news of Murray circling the project initially broke over at The Wrap. Although her role remains under wraps, we do know that the film will take place during he 1967 Detroit Riots, which broke out following altercations between bar patrons and police officers following the raid of an unlicensed bar. The racially-tinged violence lasted for five days, resulting in 43 deaths, thousands of injuries and arrests, and tens of millions of dollars in property damage. Bigelow's previous collaborations with Boal combined intense Hollywood filmmaking with shades of docudrama and journalism, so we can probably expect a similar tone here. With stories of racially-motivated violence and police misconduct still continuing to make headlines in 2016, it's easy to see why this subject matter would interest this particular team.
Murray is best known for playing Gilly, the naive but crafty wildling on HBO's Game of Thrones. Before landing that role, she broke out by playing Cassie Ainswort on the British television series Skins. Since then, she has landed roles in movies like Dark Shadows, God Help the Girl, and Bridgend. Considering that Bigelow made a star out of Jessica Chastain with Zero Dark Thirty, it's not surprising to see a young up-and-comer looking to join a movie like this.
This is another promising project for Annapurna Pictures, who are already getting the chance to show off their varied taste this year with the wonderful Everybody Wants Some and the genuinely insane Sausage Party. This isn't the first time they have worked with Bigelow (that would be Zero Dark Thirty), but since that collaboration led to one of the best films of 2012, it's easy to imagine why all parties are reuniting once more.
This film doesn't have an official release date yet, but The Wrap reports that the film is eyeing a summer start date and a 2017 release, which would mark the 50th anniversary of the riots.