Here Is Footage Of James McAvoy Shaving His Head For 'X-Men: Apocalypse'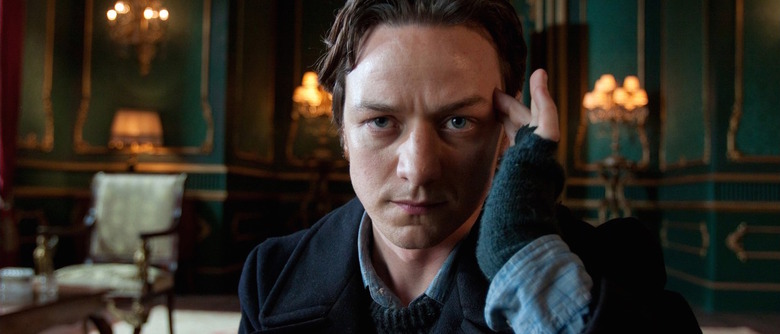 The most recent X-Men movies have somehow managed to dance around the fact that James McAvoy is playing Professor Charles Xavier, a comic book character known for his bald head and wheelchair. X-Men: First Class put McAvoy's Professor X in that wheelchair, but X-Men: Days of Future Past inexplicably took him out of it for most of the movie before putting him back in it. Now, X-Men: Apocalypse looks to finish the job by finally stripping McAvoy of his shaggy locks.
The trailers for the film have already shown us the young Professor X sitting in his wheelchair, shiny head gleaming, but footage exists of James McAvoy actually shaving his head and it's far more entertaining than you'd expect.
This is less of a featurette and more of bizarre home video, with McAvoy venturing to his trailer for the head-shaving and chatting through the process. Director Bryan Singer accompanies him, even contacting the famously Patrick Stewart (who has played Professor X in five previous X-Men movies) on video chat so he could share in the moment. The result is oddly sweet, with these three men, united by one fictional character, celebrate the passing of the torch. Now that McAvoy has gone bald, Stewart can quietly retire from these movies...after making his final appearance in The Wolverine 3, of course.
With X-Men: Apocalypse earning wildly mixed reviews (it has been called a franchise killing disaster and the most audacious superhero movie in years), we can all take comfort in this video. If nothing else, we now have a video record of that time James McAvoy shaved his head.
X-Men: Apocalypse begins opening in international territories this week before arriving in domestic theaters on May 27, 2016. Here's the official synopsis:
Following the critically acclaimed global smash hit X-Men: Days of Future Past, director Bryan Singer returns with X-MEN: APOCALYPSE. Since the dawn of civilization, he was worshipped as a god. Apocalypse, the first and most powerful mutant from Marvel's X-Men universe, amassed the powers of many other mutants, becoming immortal and invincible. Upon awakening after thousands of years, he is disillusioned with the world as he finds it and recruits a team of powerful mutants, including a disheartened Magneto (Michael Fassbender), to cleanse mankind and create a new world order, over which he will reign. As the fate of the Earth hangs in the balance, Raven (Jennifer Lawrence) with the help of Professor X (James McAvoy) must lead a team of young X-Men to stop their greatest nemesis and save mankind from complete destruction.