Full Ride Video: Pirates Of The Caribbean In Shanghai Disneyland Looks Holy S*** Amazing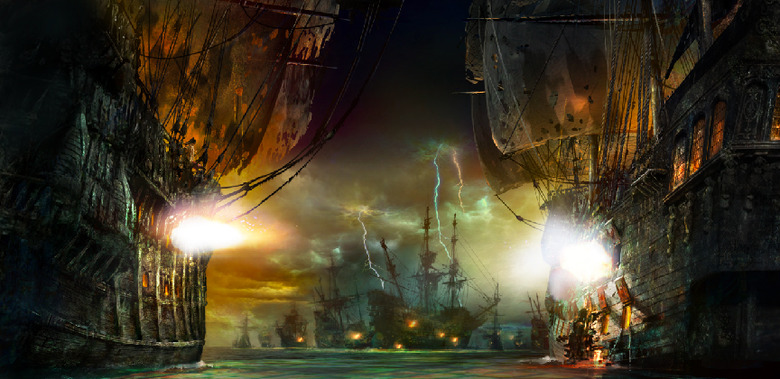 Shanghai Disneyland won't have its grand opening until June 16th 2016, but Disney's Chinese theme park has been running soft openings, giving guests a sneak preview of what's inside. Earlier this week we ran
a video from the new Tron ride
, a rollercoaster ride called Tron Lightcycle Power Run that looked pretty great. Today I bring you the most impressive thing I've seen coming out of Shanghai Disneyland, and that is the new Pirates of the Caribbean ride.
No, this isn't the same animatronic ride from Disneyland (or the much shorter version from Disney World's Magic Kingdom), this is an all-new ride which Disney has been calling the park's signature attraction: Pirates of the Caribbean: Battle for the Sunken Treasure. The new E-ticket ride, located in the park's Treasure Cove land, features "a combination of new technology and innovation and will take guests on a pirate adventure with Captain Jack Sparrow and Captain Davy Jones, providing an experience unlike anything else in the world."
Okay, so that doesn't even do it justice. The first good ride-on video has hit the web and HOLY S***. I know I don't swear too much on here, so when I do it carries some gravity. This ride looks amazing. Please, stop what you're doing, and hit the jump to watch this first ride video from Pirates of the Caribbean in Shanghai Disneyland.
The Pirates of the Caribbean: Battle for the Sunken Treasure ride video comes thanks to Matthew Finnemore:
Sure, the ride might start off very similar to the classic attractions, a mash-up of visuals we've seen in Disneyland before including floating by a Blue Bayou-style restaurant, scenes featuring dead pirate skeletons including the classic jail scene featuring the dog with the keys. But once it gets to Johnny Depp's Captain Jack Sparrow, the ride goes in a completely new direction — and that direction is down. Down below the water, to a new place we've never experienced in a Pirates of the Caribbean ride.
Disney's competitor Universal Studios has often combined practical effects, animatronics and scenery with huge projected images, but usually the emphasis is on huge screens versus practical. And the animatronics look next level. I don't think we've ever seen anything before as good as Davey Jones in this ride. And yes, it's freaky to watch a Captain Jack Sparrow animatronic speaking Chinese. I need to go there.
I imagine this is the ride that ILM was teasing that they were working on a while back. Also, who else thinks that the boat adventure ride planned for Pandora: The World of Avatar in Animal Kingdom will be employing the same kind of technology seen in this attraction?
I'm also going to include a couple more videos taken by visitors to Shanghai Disneyland. The first is a well-cut montage of some of the new areas and attractions, while the second is a much longer (92-minute) compilation of ride-through videos of a bunch of the rides at this new park including Soarin' Over the World (which will be coming to Disney California Adventure and EPCOT the day after this park officially opens, each with its own unique ending).