Daniel Brühl Climbs Aboard J.J. Abrams-Produced 'God Particle'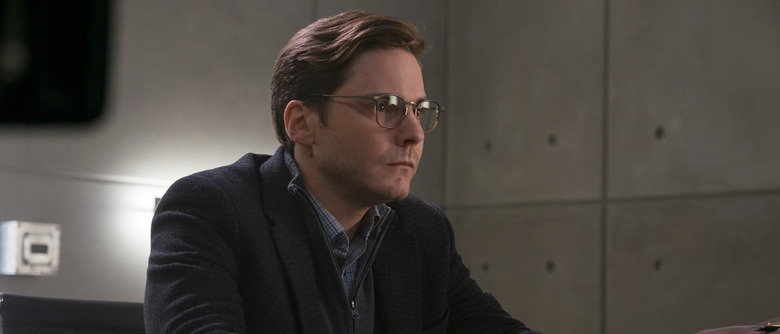 Hot off of his villainous turn in Captain America: Civil War, Daniel Brühl is getting ready to launch himself into outer space. He's the latest star to climb aboard the J.J. Abrams-produced sci-fi thriller God Particle, joining David Oyelowo, Gugu Mbatha-Raw, John Krasinski, and Elizabeth Debicki. Julius Onah (The Girl Is in Trouble) is directing for Paramount.
The Hollywood Reporter broke the news of the Daniel Brühl God Particle casting. Brühl and the others will play astronauts on a mission aboard a space station. After a scientific experiment causes Earth to disappear, they find themselves all alone in space. Then a space shuttle appears, and the crew must find out whether it spells salvation or doom. Considering that earlier reports on God Particle have mentioned the crew "desperately fighting for survival," I'm guessing doom.
God Particle is speculated to be the next film to fall under the Cloverfield banner. All the pieces seem to be there — an original sci-fi premise, a relatively modest budget, a promising young director, and an impeccable cast. Nothing's been confirmed on that front, but keep in mind that 10 Cloverfield Lane wasn't released as a Cloverfield "blood relative" until shortly before release, either. It may be a while before we know for sure either way.
Whether or not God Particle turns out to be a Cloverfield movie, Onah and Bad Robot have assembled a really impressive mix of talents for this one, and Brühl seems like a fantastic addition. Most of these stars are somewhere between "up-and-comer" and "household name" — they have the talent and the charisma to break out in a big way, but haven't gotten there quite yet. They're also, for the most part, actors who haven't really worked together, so it should be interesting to see how they bounce off of each other.
Brühl's first big breakthrough came in the early 2000s with the German film Good Bye, Lenin!, and he became even better known to an international audience with 2009's Inglourious Basterds. Since then, he's appeared in Ron Howard's Rush (for which he was nominated for a Golden Globe), Anton Corbijn's A Most Wanted Man, the Julian Assange biopic The Fifth Estate, and, most recently, Captain America: Civil War. He'll next be seen in the war drama The Zookeeper's Wife opposite Jessica Chastain.