Farting Corpse Movie 'Swiss Army Man' Gets A Red-Band Trailer, In Case That Green-Band Trailer Was Too Tasteful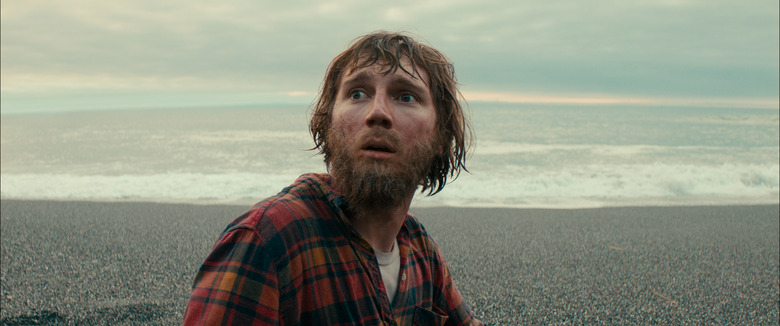 Last month brought us the first trailer for Swiss Army Man, Daniel Kwan and Daniel Scheinert's (in)famous Sundance dramedy about a desperate man stranded all alone on a desert island (Paul Dano), until he stumbles across a flatulent corpse (Daniel Radcliffe). With a description like that, Swiss Army Man's marketing was never going to be appropriate for polite company — but if you walked away thinking that first green-band trailer was still a bit too tasteful, today we've got the Swiss Army Man red-band trailer to share with you.
This cut of the Swiss Army Man trailer actually does a better job of capturing the utter rudeness and surprising poignancy of Swiss Army Man, though it arguably also gives away too much. Manny (as Radcliffe's dead body is called) first proves useful when his farts help propel Hank (Dano) across the surf, but it turns out this "multi-purpose tool guy," as Hank calls him, has a lot of other tricks up his sleeve as well. Watch the Swiss Army Man red-band trailer below.
Here is the rather hilarious description of this trailer given by A24:
Daniel Radcliffe's boner compass helps Paul Dano find his way home in Official Red Band Trailer for SWISS ARMY MAN.
Radcliffe's farting corpse made headlines at Sundance, turning this under-the-radar feature from first-time directors Daniel Kwan and Daniel Scheinert (of Lil Jon's "Turn Down for What" video) into one of the most talked-about movies at the fest. Not all of the responses were positive — the film reportedly saw plenty of walkouts in its world premiere screening — but it won over plenty of fans, too, myself included. The farting corpse is much more than a cheap, attention-grabbing gimmick, as I wrote from the festival:
All of the gross gags and twisted humor are just a way into the film's true theme of loneliness — and not just the kind experienced by people who are truly, literally alone. Hank is physically separated from society by circumstance, but it becomes increasingly clear that he wasn't much less isolated in the real world. And that, perhaps, there was a good reason for that.
Swiss Army Man arrives in theaters June 24.