'Captain America: Civil War' Directors Joe And Anthony Russo Return To TV With Pot Comedy At Showtime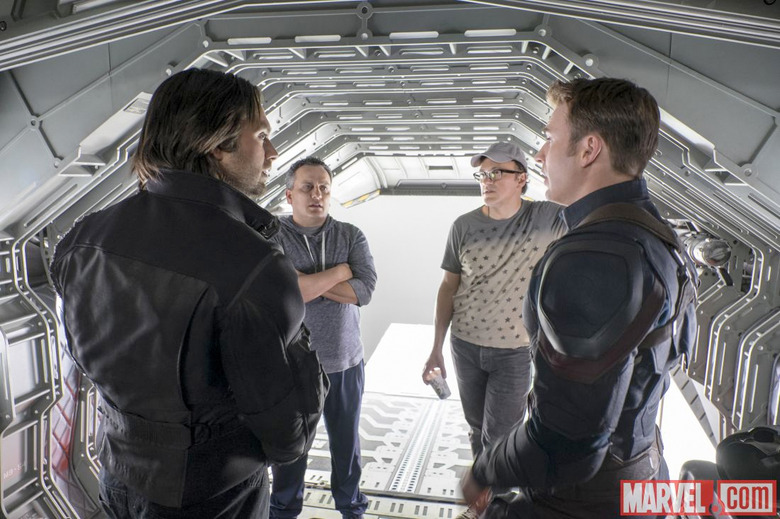 These days, Joe and Anthony Russo are famous for helping to steer the juggernaut that is the Marvel Cinematic Universe franchise. They directed Captain America: The Winter Soldier and returned for Captain America: Civil War, and will be back yet again for the next two Avengers sequels. But before all that, they were best known for their work on beloved shows like Arrested Development, Community, and Happy Endings.
And, as it turns out, they haven't abandoned their small-screen comedy roots completely. The Russos are teaming with Showtime for a new sitcom about a family of pot dealers. Zach Cregger (The Whitest Kids U'Know) and Moshe Kasher (Another Period) are also on board. 
TheWrap reports the Russos are developing the pot comedy at Showtime, but caution that deals for the show aren't completely done yet. Here's how they describe the untitled show:
The half-hour sitcom focuses on a larcenous family of marijuana dealers whose world is turned upside down when their illegal enterprise suddenly becomes legal in their home state. As the family struggles to adapt to the strange new world of legitimate business, they are forced to depend upon the business acumen of their son, whose straight and narrow leanings have always made him a "black sheep" in this clan of reprobates.
The Russos will write and executive produce along with Kashe and Cregger. Mike Larocca of the Russos' Getaway Productions banner will serve as a producer. The Russo brothers' comedy credits are rock-solid. They directed the Arrested Development pilot and returned for several more episodes throughout the series' run, and served as executive producers and directors on critical faves Community and Happy Endings. Their other credits include the shows Animal Practice, Running Wilde, and LAX, and the films Welcome to Collinwood and You, Me, and Dupree.
The brothers are next set to direct Avengers 3 and Avengers 4, due out in 2018 and 2019. By the time the latter of those hits theaters, they'll have been making Marvel movies for six or seven years (The Winter Soldier opened in 2014, but pre-production began well in advance). It should be nice to see them mix things up, and step back into the comedy world for a bit. Their latest film, Captain America: Civil War, is in theaters now.