'Jason Bourne' Featurette: Matt Damon Is Pounding People Into Oblivion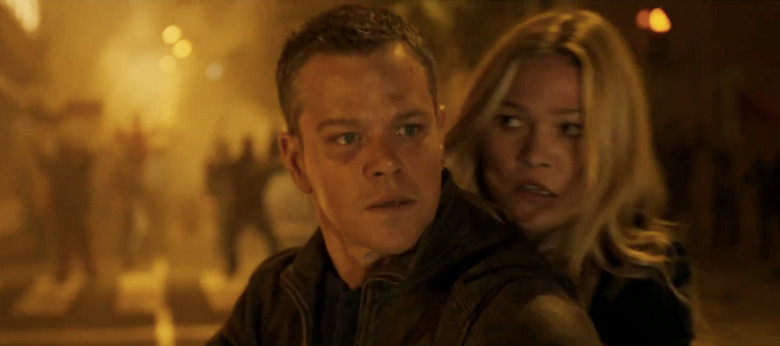 It doesn't feel like it's been 14 years since Matt Damon hit the big screen as Jason Bourne in the action thriller The Bourne Identity. For Matt Damon, his journey with the character began a couple years earlier since production on the franchise, based on a series of books by Robert Ludlum, began in 2000. Now Bourne is being called back into action in a world that is tearing itself apart.
In a new Jason Bourne featurette, Matt Damon says he's always been asked when the next Jason Bourne movie would happen, even after he seemingly completed his turn as the character with The Bourne Ultimatum back in 2007. Now we get to see how Jason Bourne coped with the answers he received about his past across three movies, but there are still secrets he doesn't know. Watch the Jason Bourne featurette below.
The featurette sets the stage a little bit for where we find Bourne after all these years. Damon explains that he's basically beating up strangers in underground fights as a way of coping with all the thoughts stirring around in his damaged head. Meanwhile, new footage gives us some more glimpses at Tommy Lee Jones, Alicia Vikander, Vincent Cassel and Ato Essandoh in the movie, as well as Julia Stiles reprising her franchise role as Nicky Parsons.
Director Paul Greengrass says there's a reason that the CIA wants to bring Jason Bourne in this time. It appears that after some kind of critical hack hits national security, the world is falling apart, and for some reason that's the catalyst for Bourne needing to come in. The featurette makes it seem like Bourne is called upon to help the government this time as a hack aims to reveal the identities of operatives around the world.
In addition, Damon makes it sound like this could truly be the last outing that Jason Bourne needs because he's going to uncover all the answers to the original question about his identity this time. Of course, we thought that happened with The Bourne Ultimatum as well, so anything is possible.
Hopefully this sequel actually has a story worthy of the return of Jason Bourne instead of being a desperate cash grab by Universal Pictures after The Bourne Legacy didn't deliver the kind of success they were hoping for back in 2012. This featurette makes the movie feel a little generic, but I trust in Paul Greengrass and Matt Damon.
If you missed it, watch the first Jason Bourne teaser trailer right here as we wait for the movie to arrive on July 29.