'MIB 23' Director James Bobin Discusses Tonal Challenge Of Combining Franchises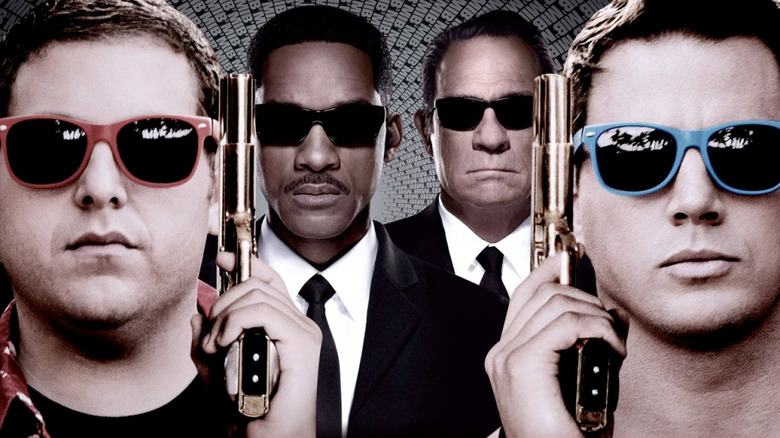 Believe it or not, the feature film crossover of the 21 Jump Street and Men in Black franchises is a real thing. The project was first revealed when studio e-mails hit the web following the Sony hack. Since then the studio has moved forward with development, announcing the official existence of the crossover at CinemaCon this year under the title MIB 23, with Channing Tatum and Jonah Hill in the lead roles.
Now MIB 23 finally has a director with The Muppets and Alice Through the Looking Glass director James Bobin preparing to shoot the film this fall. In addition, while promoting Disney's aforementioned fantasy sequel, Bobin addressed the challenge of combining these two unique franchises, specifically with regards to the tone. Learn what the MIB 23 director had to say on the matter after the jump.
Collider confirmed James Bobin as the MIB 23 director over the weekend, and since then CinemaBlend was able to catch up with the filmmaker to discuss his approach to the project and the challenges posed by bridging the worlds of 21 Jump Street and Men in Black:
The challenge is a tonal challenge. It really is. Because both worlds are so fantastic, and then it's one of those things where you think, 'How is this possibly going to work?' And then you read the script and go, 'I get it! This is amazing!' It's fantastic and it's really fun. In a way I'm trying to imagine neither of those things exist before, and then what would it be together., and that ends with a very interesting place to be. But I love both worlds very much, and Jonah and Channing are hilarious, so they'll be just, you know!
At the very least, it helps that both franchises had considerable amounts of comedy involved. Men In Black was a little more serious about their sci-fi action and drama while 21 Jump Street gave more attention to the comedy while still delivering some solid action. Plus, 22 Jump Street went a little more meta with their comedy than Men In Black, especially with all those fake sequels we learned about in the credits. Producers Phil Lord and Chris Miller have even said those sequels be made canon in the forthcoming crossover sequel. So who knows how they'll pull that off.
Some people think this crossover is just too ridiculous, but the prospect of seeing characters like Schmidt and Jenko get recruited into the Men in Black sounds too hilarious and insane not to try out. If the Flintstones can meet the Jetsons, then surely Jump Street can help fight the scum of the universe.
MIB 23 is being written by Rodney Rothman, the scribe behind 22 Jump Street. And considering that the sequel was one of the better comedy follow-ups, nearly as good as 21 Jump Street, my hopes are that he does a good job bringing these two franchises together. James Bobin's previously comedy work in Flight of the Conchords also speaks for itself, so I can't wait to see what he delivers with MIB 23. Don't forget there's also supposed to be a female-led spin-off of the Jump Street franchise in the works as well, so stay tuned to see how these projects turn out.