'Ice Age: Collision Course' Trailer: It's The End Of The World As They Know It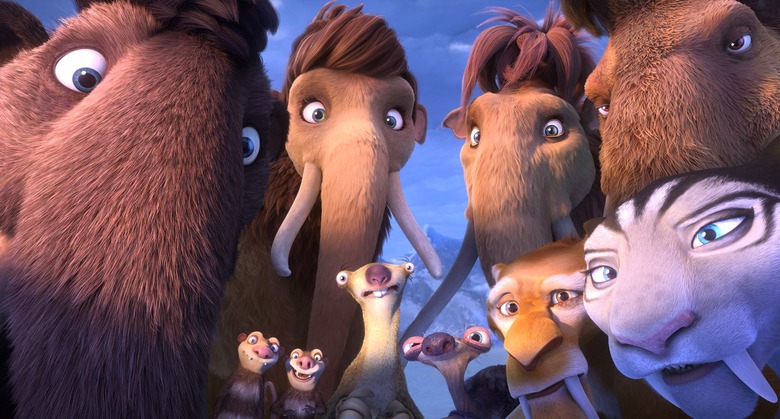 The Ice Age movies might not earn the fawning critical acclaim of the Pixar movies or the smashing box office numbers of the Minions / Despicable Me series, but they are hardy in their own way. The series has been chugging along for 14 years now, taking in $2.8 billion worldwide over four installments, and a fifth film is due out this summer. In Ice Age: Collision Course, Scrat's pursuit of that elusive acorn sets off a chain of events that could spell the end of the Ice Age world as we know it... except it probably won't, because as long as these movies keep making money, Sid, Manny, and Diego are going to keep doing their thing. Watch the latest Ice Age: Collision Course trailer below. 
Between Collision Course and Zootopia, animated anthropomorphic animal yoga seems oddly prominent this year. One more and it's officially a trend. As a side note, it's not hard to understand why none of these animals have buttholes – the MPAA probably doesn't look too kindly on animal parts and parents probably don't want to think about that stuff either – but it's still kind of weird, right? Especially when a character makes explicit reference to his nose being "dangerously close to his butt"?
As always, Collision Course brings in a slew of recognizable voices. Ray Romano, John Leguizamo, and Dennis Leary are back as the central trio, and Queen Latifah, Sean William Scott, Josh Peck, Wanda Sykes, Jennifer Lopez, Simon Pegg, and Keke Palmer all return from previous installments as well. New to the cast this time are Jesse Tyler Ferguson, Max Greenfield, Michael Strahan, Melissa Rauch, Jessie J, Neil deGrasse Tyson, Adam DeVine, Stephanie Beatriz, and Nick Offerman.
Ice Age: Collision Course crashes into theaters on July 22.
Scrat's epic pursuit of the elusive acorn catapults him into the universe where he accidentally sets off a series of cosmic events that transform and threaten the Ice Age World. To save themselves, Sid, Manny, Diego, and the rest of the herd must leave their home and embark on a quest full of comedy and adventure, traveling to exotic new lands and encountering a host of colorful new characters.