J.J. Abrams' 'God Particle' Adds 'Great Gatsby' Star Elizabeth Debicki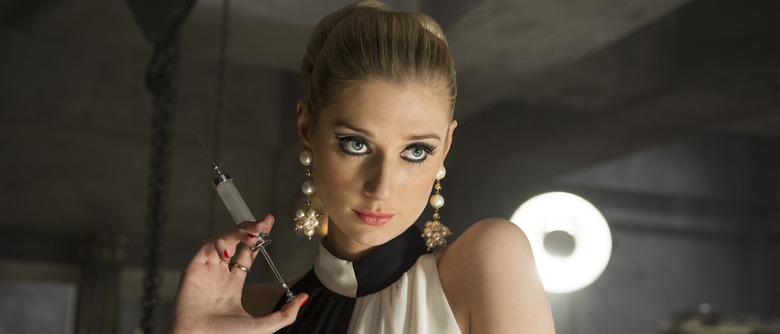 As of now, Julius Onah's God Particle remains shrouded in the usual layers of secrecy that surround any project from J.J. Abrams' Bad Robot. But at the very least, we know this thing will have a killer cast. David Oyelowo and Gugu Mbatha-Raw signed up for the space-set sci-fi earlier this spring, and John Krasinski began orbiting last month. Now Elizabeth Debicki, of The Great Gatsby and The Man From U.N.C.L.E., will be joining them as well. 
Variety reports Debicki is in negotiations to join God Particle. Oyelowo and Mbatha-Raw are firmly on board, but Krasinski's involvement is murky — it's not clear whether he's still in talks, or whether he's floated off to another project. The story takes place in the near future and follows "a team of astronauts who make a terrifying discovery that challenges everything they know about the fabric of reality, as they desperately fight for survival." Debicki will play an astronaut.
Debicki came seemingly out of nowhere to nab the role of Jordan Baker in Baz Luhrmann's The Great Gatsby, and her star has been on the rise ever since. Last year she was seen in three movies — Everest, The Man From U.N.C.L.E., and Macbeth — and she can currently be seen in the John Le Carré TV miniseries The Night Manager. She is now shooting Guardians of the Galaxy Vol. 2, although details of her role remain under wraps.
God Particle has been kicking around for years, but seemed to get a shot in the arm once 10 Cloverfield Lane took off for Paramount and Bad Robot. There's been rampant speculation (including from yours truly) that this will turn out to be the next Cloverfield film. It does seem to share a similar formula, combining an original sci-fi premise, a modest budget, and up-and-coming director, and a hugely promising cast. So even if it's not a direct sequel to either film, it could be another 'blood relative."
Shooting on God Particle gets underway this summer for release on February 24, 2017.