Russo Brothers Confirm Captain Marvel For 'Avengers: Infinity War', Discuss Sequel's Effect On The MCU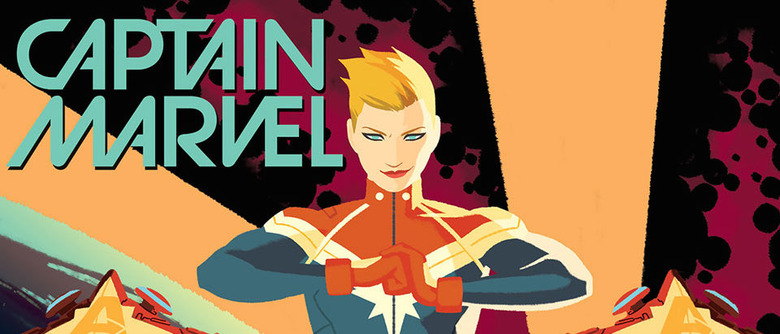 Now that Captain America: Civil War has been unleashed on audiences, fans who caught the movie last night are already looking ahead at what's to come in Phase Three of the Marvel cinematic universe. New solo franchises will begin with Black Panther, Captain Marvel and the new Spider-Man. Others will continues with Ant-Man and the Wasp and Thor: Ragnarok, and there's even a new hint of an Iron Man 4 at some point (though probably not in Phase Three). But the biggest part of the next phase in the MCU is the two-part sequel that is The Avengers: Infinity War.
Anthony & Joe Russo recently confirmed that the two films are different enough from one another that they'll be renaming the movies so they're not simply called The Avengers: Infinity War Part I and Part II. Now the directing duo has confirmed (accidentally) that Captain Marvel will be part of the sequels. Plus, a new interview has the brothers teasing the effect Infinity War will have on the MCU.
Find out how the Russo brothers slipped up about Captain Marvel in Avengers Infinity War after the jump.
Anthony & Joe Russo recently appeared at an event at the Smithsonian Institute where they discussed The Avengers: Infinity War a little bit. While specifics on their remarks weren't adequately noted by anyone in attendance, ComicBook.com found out from a couple attendees that one of the brothers name-dropped Captain Marvel. One fan quickly followed up and asked, "Did you just confirm Captain Marvel?" to which they quickly and poorly tried to cover their tracks. One of the brothers said, "Um, Captain Barvel. Totally different character." Nailed it.
Captain Barvel sounds like a new addition to the Marvel cinematic universe, and it also sounds like the off-brand name for a terrible fiber-heavy cereal. But I digress. Obviously Captain Marvel was never going to die in her first standalone movie, so her inclusion in the huge roster of superheroes in The Avengers: Infinity War isn't a big surprise. We're supposed to find out who's playing the character sometime this summer, so hopefully we have more to go on regarding that character soon.
As for what else we can expect from The Avengers: Infinity War, Anthony Russo told Collider this will have a huge impact on the Marvel cinematic universe:
Those movies are intended to be the culmination of everything that's happened in the MCU from the very first Iron Man movie years ago. So they will end up changing the MCU more profoundly than any movie has yet, and there will be some things that come to an end in those movies, dimensions of the MCU will end in those film, dimensions will change forever in those films, dimensions will find new life in those films. They're a real threshold for what we've come to know as the Marvel Cinematic Universe, and I think that dimension can be a little intimidating but also exciting.
Surely a major character death would be something that would change the Marvel cinematic universe more profoundly than any other movie. Captain America could be taken out in order for Bucky Barnes or Falcon to pick up the shield since both characters have done so in the comic books. Of course, Robert Downey Jr. has been talking about hanging up the armor for awhile as well. Even though he's expressed renewed interest in maybe one more solo Iron Man movie, that could just be misdirection so characters don't think he'll be killed off in Infinity War. Anything is possible.
Collider has a great interview with Anthony & Joe Russo where the talk about blending their grounded style with the cosmic side of the Marvel cinematic universe, the evolution of abilities for Vision and Scarlet Witch, how they'll be working with Josh Brolin as Thanos and much more. Check out the full interview over here.