'Fathers And Daughters' Trailer: Amanda Seyfried And Russell Crowe Have Issues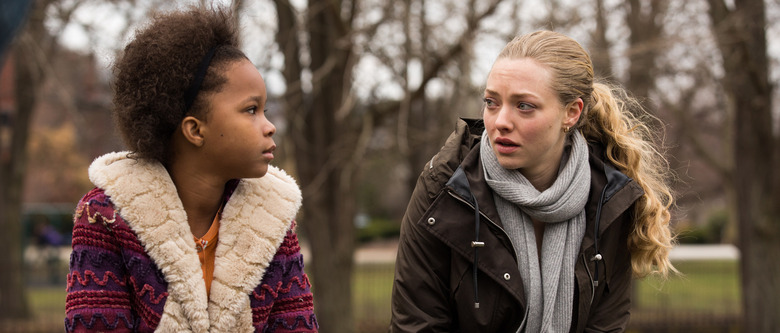 There probably isn't a person alive who has not been shaped, in some way, by some lingering childhood trauma or another. In Gabriele Muccino's Fathers and Daughters, those scars take center stage. Russell Crowe plays a writer and the doting father of an adorable daughter named Katie. But a painful incident tears the family apart, leaving little Katie to be raised by her aunt (played by Diane Kruger). Decades later, she's grown into a young woman played by Amanda Seyfried, a social worker who deals with orphaned children while struggling with her own daddy issues.
Aaron Paul plays a nice young man who woos the grown-up Katie, and Quvenzhané Walls appears as particularly troubled charge of Katie's. Octavia Spencer and Jane Fonda are also among the supporting cast. Watch the Fathers and Daughters trailer after the jump. 
The Fathers and Daughters trailer maybe goes too hard on the parallels between Katie's father and her new boyfriend. It's a truism that people end up with people who remind them of their parents, but it's still kind of weird to think of her love interest as a substitute for her father, right? Still, the pairing of Seyfried and Paul seems like a fun detail for fans of their work together on HBO's Big Love. And yeah, all of this looks very gooey and sentimental, but this weekend is Mother's Day. If now's not the time to bust out the hankies and weep shamelessly over a family melodrama, when is?
Fathers and Daughters is available now on DirecTV, and hits theaters July 8.
Told through beautifully woven narratives that happen nearly 30 years apart, FATHERS AND DAUGHTERS is a powerful story of love, loss and the tragedies that bring us together and tear us apart. From the director of Seven Pounds and The Pursuit Of Happyness, FATHERS AND DAUGHTERS stars Oscar®-winner Russell Crowe, Amanda Seyfried, Golden Globe®-nominee Aaron Paul, Diane Kruger and Oscar®-winners Octavia Spencer and Jane Fonda.